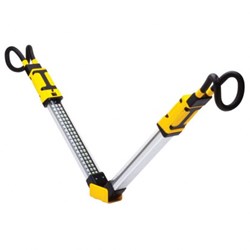 This worklight illuminates a whole engine bay, without a cord getting in the way.
Pottstown, PA (PRWEB) January 31, 2014
The Eastwood Company, innovators of do-it-yourself automotive restoration tools and supplies, has just introduced a rechargeable 120-LED underhood light. The new worklight features SMD LEDs (surface mount), which output 1,250 lumens and are up to two times brighter than conventional LEDs.
With extendable bars featuring foam-covered hooks, the light easily mounts to any surface from 53" to 72" wide, perfect for illuminating engine bays. Built from ABS and aluminum, the light is durable, yet lightweight. When it comes time to put away, the light folds in half for easy storage.
"Halogen worklights, in addition to being hot, always create shadows when working under the hood," commented Ryan Poshefko, Eastwood Product Manager. "This worklight illuminates a whole engine bay, without a cord getting in the way." With an included AC/DC adapter and 12V charger, the 7.4v 2200 mAH Li-ion battery is quick to charge and offers a long run-time. The Eastwood Rechargeable Worklight is backed by Eastwood's 90-day, no-hassle warranty.
Eastwood markets unique tools and supplies for repair, restoration, and modification of cars, trucks and motorcycles, as well as for home and garage DIYers. Founded in 1978, Eastwood constantly strives to develop new products to serve the home automotive hobbyist, as well as individuals and organizations focused on the restoration and preservation of automobiles and motorcycles. For more information or for hi-res photos, please contact Nick Capinski at ncapinski(at)eastwood(dot)com or (610) 705-5404.