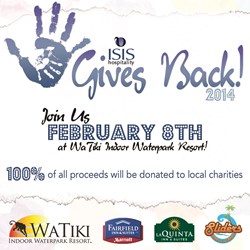 Rapid City, SD (PRWEB) January 28, 2014
One day of the year, ISIS Gives Back selects numerous ISIS properties to allocate 100% of all gross sales to that year's beneficiaries. In the last five years, ISIS has contributed more than $200,000 to worthy causes in the area.
This year beneficiaries include Soccer Rapid City, Rapid City BMX Fund, Box Elder BMX Raceway, Front Porch Coalition, Arete Foundation in memory of Kevin Morsching, St. Thomas More's Scott Grimsrud Scholarship, Northern Hills Alliance for Children, Destination Rapid City, Ranchers Relief Fund, Corner Stone Rescue Mission, Rapid City Club for Boys, and Storybook Island.
Making a splash, the overarching effects of ISIS Gives Back 2014 will reach the community in a number of ways from providing meals at the Club for Boys to healthy outlets and activities for the community to educating students about suicide prevention and coping with a loss due to suicide.
According to Megan Whitman, Executive Director of Main Street Square, and Dan Senftner, President and CEO of Destination Rapid City, the proceeds will allow numerous outreach non-profit groups with a limited budget to ice skate at Main Street Square. "Without that support, these events wouldn't be able to go through," said Whitman.
"It's an all encompassing way to give to a lot of people and a lot of groups all at once," explained Whitman. "This year's proceeds will impact individuals, groups, and local merchants downtown. The overall footprint it leaves in our community is tremendous."
The Arete Foundation in memory of Kevin Morsching has participated in ISIS Gives Back since 2009, when the first ISIS Gives Back event helped to establish the Arete Morsching Scholarship. According to Kim Morsching, founder of the Arete Foundation, the proceeds contribute to four scholarships given annually in memory of her son, Kevin Morsching.
In addition to participating as a beneficiary, Morsching and her family attend ISIS Gives Back every year.
"I think it's an amazing event that allows families to spend a lot of time together AND the proceeds go to local organizations," said Morsching.
Caleb Arceneaux, ISIS Hospitality CEO, commented, "We feel that it is very important that all of us embrace the idea of giving back and contributing to the community in which we live."
Established in 2009, the ISIS Gives Back Fund is a component fund of the Black Hills Area Community Foundation. Their mission is to raise dollars to support local charities.