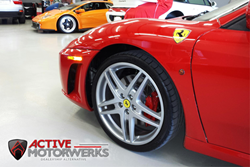 We're very happy to now be performing automotive services and repairs for Ferrari, Lamborghini and Porsche. Whether it's a BMW, Audi or one of the new models, the quality of service will be the best and at an affordable price. - Mario Garcia, owner
Austin, TX (PRWEB) January 29, 2014
"We're very happy to now be performing automotive services and repairs for Ferrari, Lamborghini and Porsche. Whether we service BMW, Audi or any one of the new models, the quality of service customers will receive here will be the best and at an affordable price", said Mario Garcia, owner of Active Motorwerks in Austin, TX.
Active Motorwerks offers a wide variety of repair and maintenance services to keep customer's vehicles running smoothly. Today's high-tech, European engine management systems require the modern-day auto technician to have a thorough working knowledge of their sophisticated components. Active Motorwerks' Master Technicians not only have the knowledge and the skill to handle any auto repair or maintenance service, but also have the latest scanning equipment for the vehicles serviced, including BMW's' (GT-1 BMW and Autologic) and Mercedes-Benz' (MB Star).
Every single customer has a choice when it comes to auto repairs. They can take their vehicles to clean and immaculately-kept dealerships and pay the extra cost of maintaining such a facility or filthy garages where it's unsafe to walk around; much less, leave their expensive investment that they rely on every day. Keeping Active Motorwerks clean, organized and with care gives customers a peace of mind that their vehicles will receive the same exact treatment.
Active Motorwerks is located at: 10710 N. Lamar Blvd., Ste. A, Austin, TX 78753. To contact Active Motorwerks, please call 512-428-5462. Hours of operation are Monday through Friday: 8:00am - 6:00pm and by appointment on Saturday.
To learn more about Active Motorwerks, visit http://www.activemotorwerks.com or http://www.Facebook.com/ActiveMotorwerks.
About Active Motorwerks
The goal at Active Motorwerks is to provide customers with honest diagnostics, dealership quality workmanship and a touch of class without the dealership pricing. Active Motorwerks understands that reputation, integrity and honesty is on the line every day, with each and every single customer. Active Motorwerks intends to build its image, one customer at a time, because word of mouth and personal recommendations are very valuable to the business.
Active Motorwerks services BMW, Ferrari, Maserati, Lamborghini, Audi, Mercedes-Benz, Porsche, Aston Martin and Mini-Cooper in a quality facility at an affordable price.
Media Contact:
Mario Garcia
512-428-5462
http://www.activemotorwerks.com