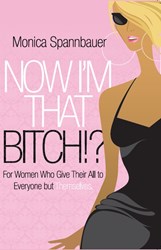 Nashville, Tenn. (PRWEB) February 05, 2014
Monica Spannbauer takes a humorous approach on finding yourself and love in her new book, NOW I'M THAT BITCH!? Her diverse life experiences, including her search for love on ABC's The Bachelor, has led her to the conclusion that you must be able to laugh at the challenging times and love yourself completely. She reveals a very personal look into her dating endeavors, both the good and the bad. Her light-hearted approach to loves ups and downs, might touch a nerve, may impress, and hopefully makes you smile.
Monica adeptly helps other women avoid pitfalls, not only pointing them out in her own life, but making a point to clearly call out the glaring red-flags. As she candidly explains, "There comes a point in a girl's life when she figures it all out. For some, this awakening occurs when she is young. For others, learning life's little lessons is literally like beating a dead horse, and upon her deathbed, the light bulb clicks. Regardless of when that "ah ha" happens, it is the most invigorating moment of realization."
Monica writes that she always felt as if she were constantly playing games in her relationships or desperately missing something, but then discovered from the Bitch series books a pivotal moment where all the pieces actually fit. It was at that moment that she realized her feeling of confidence shouldn't just last a day, or a week, or till she finds the next empty relationship. Monica is the quintessential single woman who knows how men operate and how women need to adapt to that crazy game called dating.
Full of advice and always ready to keep it real, Monica hopes to instill confidence in women who may be just like her. Her light-hearted and witty approach will both entertain and inspire you. She currently lives with her family in Utah. This is her first book.
NOW I'M THAT BITCH!? will be released February 25, 2014 in trade paperback (ISBN 978-1-939447-77-7) and in e-book (ISBN: 978-1-939447-78-4).