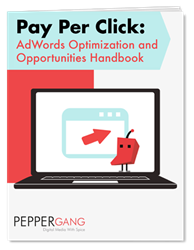 If you aren't getting the most out of the latest Google AdWords tools as they emerge, you're missing out on a huge opportunity to build leads.
Boston, MA (PRWEB) January 28, 2014
Boston pay per click (PPC) agency, Pepper Gang, has released an extensive e-book on using Google AdWords for advertising and is now offering the first edition of the e-book for download.
The 68+ page handbook, "Pay Per Click: AdWords Optimization and Opportunities Handbook" is an extensive guide on best practices for using Google AdWords as part of a business marketing plan. This guide covers different opportunities in PPC advertising like remarketing, mobile and video advertising, and product campaigns.
Readers will learn about how to leverage the latest trends in using AdWords for marketing, including:

o Remarketing
o Mobile advertising
o Video advertising
o Product campaigns
o Ad extension types
o Setting up ad extensions
o Automated rules
o Engagement campaigns
o Using the opportunities tab
Also covered in the guide is measurement: how to gauge which campaigns are doing well and what parts of a campaign need tweaking for optimal results.
"This guide is perfect for companies who have tried using AdWords, either on their own or through an agency, and just haven't seen the results they want," said Stefanie Daneau, co-owner of Pepper Gang and co-author of the handbook. "Ads on the Google network reach a massive audience every day. Without utilizing the latest AdWords tools as they emerge, business owners are missing out on valuable opportunities to reach this audience."
From the guide:
"The comprehensive guide to missed opportunities within a brand's pay per click accounts offers easy-to-implement, impactful techniques that many AdWords advertisers frequently overlook but which can help transform underperforming accounts into fully blossoming ROI machines."
To download the guide, visit the digital marketing resource center at the Pepper Gang website. There is no obligation to download the guide.
About Pepper Gang:
Pepper Gang is a Boston pay per click agency that is known for spotting the weak points in an advertising campaign and making changes that improve results. With a finger on the pulse of trends in digital marketing, Pepper Gang helps businesses of any size reach their full potential.