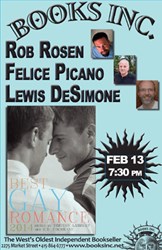 "Cleis Press has been at the forefront of LGBT publishing since 1980 and continues to give voice to queer writers of all genres."—EDGE Media
(PRWEB) January 28, 2014
This Valentine's Day, Books Inc. in the Castro pairs with Cleis Press for a night of swooningly romantic stories of gay love. Reading together for the first time is the venerated Felice Picano, critically acclaimed Lewis DeSimone, and saucily prolific Rob Rosen. This evening of spice and sensuality coincides with the releases of the award-winning series Best Gay Romance 2014, Best Gay Erotica 2014, and Foolish Hearts. Get ready for an unforgettable and unique Valentine's Day party. Sparkling libations to be served.
"Cleis Press has been at the forefront of LGBT publishing since 1980 and continues to give voice to queer writers of all genres."
—EDGE Media
Valentine's Day from Cleis Press
Thursday, February 13 - 7:30 p.m.
Books Inc. in the Castro
2275 Market Street
San Francisco, CA 94114
(415) 864-6777
About Books Inc.
Books Inc. is a locally owned and operated independent bookseller with 11 locations in California. Books Inc.'s origin dates back to the Gold Rush Days of 1851.
About Cleis Press
Cleis Press publishes provocative, intelligent books across genres. Whether literary fiction, human rights, mystery, romance, erotica, LGBTQ studies, sex guides, pulp fiction, or memoir, if it's outside the ordinary, it's Cleis Press.