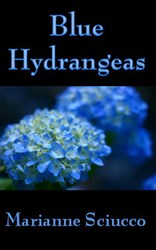 "I love audiobooks, and I knew the story of Jack and Sara would appeal to others who enjoy them."
Middletown, NY (PRWEB) January 29, 2014
"Blue Hydrangeas" author Marianne Sciucco has announced an audiobook is in the works with ACX (Audiobook Creation Exchange, an Amazon company), and actor Elinor Bell. "Blue Hydrangeas," a Kindle bestseller in the medical genre, is an Alzheimer's love story that has earned 4.8 stars from Amazon readers and is favorably reviewed by Goodreads members.
"It's a natural progression," says Sciucco, a registered nurse who penned the novel after years of working with dementia patients and their families. "I love audiobooks, and I knew the story of Jack and Sara would appeal to others who enjoy them. I just needed to find the right producer and narrator."
More than twenty producers/narrators auditioned for the project. "I chose Elinor Bell because of her professional approach to the audition and because I liked her voice and the way she read the sample script," Sciucco says. "I was looking for a mature reader without any regional accent, and someone who appreciated Jack and Sara's story. Elinor met all of my criteria and more." Bell has first-hand knowledge of dementia as her mother suffered with it. "This was a definite plus," Sciucco says. "Elinor also loved the book, which is very important to me."
Bell shares Sciucco's enthusiasm for the project. "Marianne catches so perfectly the quandaries that come with this disease, this stage of life, love, and loss, and the feeling that there are no good choices. She captured the truth of each person – family member, friend, professional – caught in the wide-flung web of Alzheimer's. And yet I finished reading the book with such a sweet feeling of hope."
Bell has extensive experience on stage, in film, and in commercials, voiceover, and audiobook narration. Her most recent credits include production and narration of the audiobooks "After the Snow Falls," by Carey Jane Clark (2013), and "Both Sides Now," by Shawn Inmon and Dawn Inmon (2013), and film roles in "Mother Country," (2011), "Redwoods," (2009), and "Cassandra's Echo," (2006).
ACX is a marketplace where professional authors, agents, publishers, and other rights holders can connect with professional narrators, engineers, recording studios, and other producers capable of producing a finished audiobook, as well as with audiobook publishers. "With ACX, I am in control of my project," Sciucco says. "I choose my producer/narrator, the time frame for the project, where it will be sold, even the royalty structure."
Once completed, the audiobook will be available for digital download on Audible, Amazon, and iTunes. "Blue Hydrangeas," published by Bunky Press, is currently available on Amazon for Kindle and in paperback, iBooks, Nook, Sony Reader, and Kobo.
About the Author
Marianne Sciucco is not a nurse who writes but a writer who happens to be a nurse, using her skills and experience to create stories that bear witness to the humanity in all of us. A lover of words and books, she studied the craft of writing as an English major at the University of Massachusetts at Boston and worked for a time as a newspaper reporter in New England. She later became a nurse. With more than 20 years' experience as a staff nurse and case manager, she has worked with countless families dealing with issues related to aging, elder care, Alzheimer's, and nursing home placement. In 2002, she put the two together and began writing about the intricate lives of people struggling with health and family issues. She published her debut novel, "Blue Hydrangeas," an Alzheimer's love story, in 2013 to glowing reviews. When not writing she works as a campus nurse at a community college in New York's Hudson Valley.