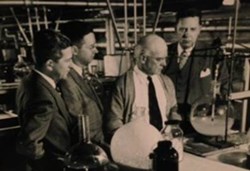 (PRWEB) January 29, 2014
Mayo Clinic team discovered cortisone perfectly controls inflammation.
Hench and Kendall () with Reichstein (Switzerland) received the Nobel Prize for discovering cortisone (more properly cortisol) perfectly controls long-term, painful, destructive inflammation, but failed to find a safe way for cortisol lifetime use.
The 1950 Mayo Clinic team in the picture is as follows: Drs. Charles Slocumb, Howard Polley, Edward Kendall and Philip Hench (left to right).
Consequently, cortisol became restricted to use by injections. Cortisol injections are inconvenient and give local, temporary relief.
We discovered the safe way for cortisol lifetime use.
You must be taught to use cortisol for inflammation like patients use insulin for diabetes, that is, patient control of medicine. One thousand nine hundred and twenty patients and two clinical trials later using patient control of cortisol, we have observed no significant side effects.
At the University of North Dakota School of Medicine, we choose tablets rather than injections for patient control of cortisol. Cortisol tablets dissolve in the stomach, enter the blood, and arrest inflammation wherever it is in the body.
Following completion of our university studies, I visited with Dr. Charles Slocumb, refer to picture below: Dr. Charles Slocumb, Prof. Virgil Stenberg (left to right).
Referring to Dr. Charles Slocumb's cortisol clinical studies, I asked him, "How come you gave patients cortisol daily?"
Slocumb answered, "We didn't know how to use it."
I explained, "Taking cortisol daily leads to over dosage. Over dosage causes Cushing's Syndrome with its rather unpleasant weight gain, bone weakening, etc. — that which has become known as cortisol 'side effects'."
"We solved the 'side effect' problem by teaching patients to take cortisol when the body is designed to make extra to control inflammation but can no longer do so."
Slocumb then blurted, "Dr. Stenberg, physicians do not know how to use cortisol! Stick to your guns."
After learning when to take cortisol and how much to take, you can control inflammation in your body in the comfort of your own home with the blessings of your physician. Cortisol is a prescription medicine.
If you take too much cortisol, you will get into the same trouble the Mayo Clinic team did with their patients. A little will do it if you are smart about it.
Virgil I. Stenberg
Research Director
Helen Foundation