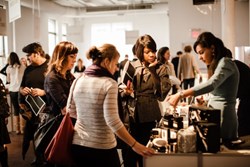 "Where are you distributed up until now?" and "Can we have an exclusive?" are the two most important questions a buyer will ask a designer. - Frederick Bouchardy, ELEMENTs
New York, NY (PRWEB) January 27, 2014
ELEMENTs is one of the fragrance marketplace's leading trade shows in New York, Dubai, London and Toyko. Showcasing classic fragrance designers alongside exceptional newcomers, representatives of fragrance lines such as Bond No. 9, Dita Von Teese, Anthony Logistics, and Odin, will be on hand to meet with buyers at Skylight West in New York City on February 4 – 6, 2014.
This year's theme is "Academy of the Mysteries of Nature" which will explore alchemical practices and categorize exhibitors by the ancient metals of antiquity; gold, copper, silver, tin, lead, iron, and mercury. ELEMENTs is currently accepting applications for designers to appear at the New York City event beginning February 4.
In a recent interview with FashionMingle.net, co-founder Frederick Bouchardy shared the secrets to having a successful tradeshow for fragrance and accessory brands. Bouchardy provided insight into what designers should expect when meeting with buyers from top stores such as Net-A-Porter, Barneys New York, Henri Bendel, and Saks Fifth Avenue.
"Where are you distributed up until now?" and "Can we have an exclusive?" are the two most important questions a buyer will ask a designer. Bouchardy says that designers who are able to provide exclusive items in bountiful quantities will give a brand the best chance of making a deal with a large department store.
The ELEMENTs website allows buyers to register to attend and designers to apply as exhibitors. For more information visit http://www.elements-showcase.com.
About FashionMingle.net
FashionMingle.net is a PR platform for fashion entrepreneurs to share, discover, and mingle. The business directory and social network create a platform for fashion entrepreneurs to promote their services and grow their business. More information can be found at FashionMingle.net.