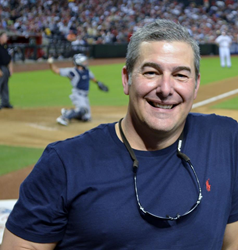 If I can succeed, coming from no money with no formal education, I truly believe anyone can.
Lafayette, Louisiana (PRWEB) March 24, 2014
The "real world" can be a pretty intimidating place. Not many people are equipped to deal with it—after all, as children, we're sheltered from it, and as adults, many people spend time at a university and then at an office job, neither of which is the "real world". However, Todd McBroom is an expert at the real world. He knows how to deal with it, as well as how to succeed when doing so. He hopes to share this knowledge with others, particularly those hoping to work for themselves, in his forthcoming book, God Was Self- Employed.
McBroom is an entrepreneur, author, and speaker. His book not only features easy-to-understand principles of success, but also gives readers the tools to apply it to their own lives. This is especially useful for anyone hoping to start a business- a decidedly "real world" endeavor. In fact, McBroom writes with budding entrepreneurs in mind, and believes that Americans actually diminish the opportunity provided by this country if they don't take advantage of the entrepreneurial prospects it affords.
McBroom knows what it is to take advantage of these prospects: he started his first business at the age of seventeen. "If I can succeed, coming from no money with no formal education, I truly believe anyone can," he says, noting that he learned a great deal from reading and sought out mentors who could teach him pertinent lessons.
It is this hunger that drove McBroom to succeed. "There's so much opportunity to create wealth and financial independence in this country," he notes, but warns: "People are so used to it they don't see it anymore, but they need to learn to wake up, see it, and take full advantage of it."
Todd McBroom
Todd McBroom is a Christian, husband and father, entrepreneur, author, and speaker. He often uses lessons in the Bible to enhance his own teaching, endeavoring to help people deal with and succeed in the real world. Todd hopes to inspire others to take advantage of the many opportunities offered to them through his unique combination of expertise in both business and ministry.
For more information, please visit ToddMcBroom.com or connect directly with Todd at toddmcbroom(at)gmail(dot)com, 337.349.6426.