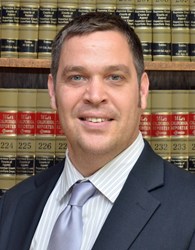 What I enjoy about the practice of law is the pursuit of truth and justice, and being on the side of the underdog. - J. Hall
Santa Rosa, California (PRWEB) January 29, 2014
The Law Office of Bill T. Kuziara is pleased to announce the addition of a new attorney, Johann Hall to its Santa Rosa office. "Johann Hall is an excellent addition to our firm," says Bill Kuziara, founder of the firm. "As a personal injury lawyer he is a tenacious advocate for clients. He brings a high level of expertise and compassion to the resolution of each unique case. We are inspired by his level of dedication and intelligence, and we feel confident that our clients will benefit from his enthusiasm for pursuing personal injury cases for years to come."
Attorney Hall says he has a real passion for working with personal injury cases such as car accidents, premise liability, hip and orthopedic injuries, wrongful death, spine, brain and head injuries. "What I enjoy about the practice of law is the pursuit of truth and justice, and being on the side of the underdog," Johann says.
About Johann Hall
Johann attended the Empire College School of Law, graduating in 2006. He received recognition for authoring a Law Review article and worked at the Sonoma County District Attorney's office as a law clerk. He also served with a number of private defense firms. Johann became a member of the California Bar Association in 2010 and he opened his practice the same year. The following year he joined the Law Office of Bill Kuziara and he became a member of the Sonoma County Bar Association in 2014.
About The Law Office of Bill T. Kuziara
The Law Office of Bill T. Kuziara provides legal representation to clients in the most effective, aggressive and compassionate manner possible. "We have experience in all aspects of the most serious personal injuries, including claims for wrongful death, and we know how to prepare each case so that we can get the best possible results for each client," says Attorney Kuziara.
The focus of the Kuziara Law Office practice is on personal injury cases, with an emphasis on concussive injuries and other types of brain injury cases. Bill Kuziara has taken more traumatic brain injury cases to trial than any other attorney in Sonoma County, and he has a unique focus on brain injury cases involving concussions and mild traumatic brain injuries.
For a quarter of a century, The Law Office of Bill T. Kuziara has been helping clients get the settlements and verdicts they deserve. For more information visit the website at http://www.kuzilaw.com or call (707) 546-1040 for a free consultation today.