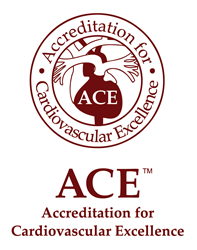 ACE mitigates risk through analysis of quality metrics thereby aligning processes, best practice and patient care goals for the highly visible cardiac catheterization laboratory. Mary Heisler, RN, BA, Executive Director, ACE
Washington, DC (PRWEB) January 28, 2014
A program highlight of the Cardiovascular Summit program: Solutions for Thriving in a Time of Change at the Aria Casino & Resort Hotel in Las Vegas, January 16-18, 2014, was the well-attended workshop How to Make Accreditation Work for You: Is It Worth the Money? presented on Friday, January 17, with Dr. Erb and Mr. Sauer.
Concluding that expert guidance is a worthy investment toward cost of care scrutiny and long-term success, the workshop discussed the process of accreditation and its financial benefits. "Accreditation for the catheterization laboratory mitigates risk through analysis of quality metrics thereby aligning processes, best practice and patient care goals for this highly visible segment of cardiovascular care," said Mary Heisler, RN, BA, Accreditation for Cardiovascular Excellence Executive Director. The experts at Accreditation for Cardiovascular Excellence (ACE) ensure that all cardiac catheterization laboratory (CCL) services establish a foundation of robust documentation, to support risk adjustment and meet current Appropriate Use Criteria (AUC) national benchmarks, and engage the entire care team in the practice improvement process. Partnering with ACE means your CCL always has expert guidance for continuous quality initiatives that may impact cost of care outcomes in today's accountable care environment.
ACE is honored to participate in two educational events for the Alliance of Cardiovascular Professionals (ACVP) in February. Speaking on the topic, Ensuring Quality in the CCL with ACE Accreditation and External Review, Sheree Schroeder, MSN, RN, RDCS, FASE, ACE Director of Peer Review Programs, will discuss how to meet quality metrics in the CCL, which are complicated and ever-changing, as systems of care become increasingly complex. The insistence of transparency of process and third party validation is an unequivocal reality and standardization of care based on best practice to ensure optimal outcomes is required.
Visit the ACE website http://www.cvexcel.org for additional information and schedule a complimentary one-hour consultation to learn how to take your CCL from good to GREAT!
About Accreditation for Cardiovascular Excellence
ACE, an independent organization sponsored by the Society for Cardiovascular Angiography and Interventions (SCAI) and the American College of Cardiology Foundation (ACCF), offers independent evaluation and monitoring of facilities that provide cardiovascular care. By reviewing facility and operator performance and comparing clinical decision-making to nationally accepted best practices, ACE peer review and accreditation services plays a critical role in continuous quality improvement programs. Learn more at http://www.cvexcel.org.