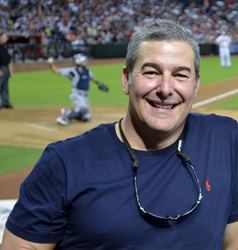 "I feel I can be a lone voice, crying out in the wilderness."
Lafayette, Louisiana (PRWEB) April 18, 2014
The Millennial generation has garnered quite a bit of criticism from members of Generation X and Baby Boomers. Possibly, these older generations are forgetting the friction caused between their own generation and that of their elders. Regardless, Todd McBroom feels that he can ease tensions and help Millennials achieve great heights. McBroom, an entrepreneur, author, and speaker, has a forthcoming book containing his philosophy for success, God Was Self- Employed.
Members of Generation Y may truly be quite different from any previous generation; modern technology has made for more savvy, global, and assertive young professionals. However, many of these would-be professionals are jobless (or working in part-time jobs rather than full-time, salaried ones), mired in student loan debt, and prefer to enjoy themselves, rather than plan or save for the future. Luckily, Todd McBroom can help. "I feel I can be a lone voice, crying out in the wilderness," says McBroom, who prefers to inspire members of Gen-Y, rather than join in criticizing them.
McBroom hopes the book will teach young people to reach for more in the workplace, and in life. In the case of Gen Y, its members should work more now so they don't have to when they're much older. However, McBroom does agree with the generation's love of travel and desire to work abroad: as a Christian, he believes God created the Earth, and that the desire to see all its magnificence is a sign of respect to that divine inspiration.
McBroom defers to the Bible in describing the purpose of his book: "I want readers to know how to succeed. And to know something in the Biblical sense means a deep intimacy, so much so that it becomes part of you. At that point, you can't turn away from it- it's in your belief structure."
Todd McBroom
Todd McBroom is a Christian, husband and father, entrepreneur, author, and speaker. He often uses lessons in the Bible to enhance his own teaching, endeavoring to help people deal with and succeed in the real world. Todd hopes to inspire others to take advantage of the many opportunities offered to them through his unique combination of expertise in both business and ministry.
For more information, please visit ToddMcBroom.com or connect directly with Todd at toddmcbroom(at)gmail(dot)com 337.349.6426.