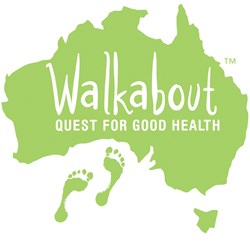 Walking is what your body is designed to do. It strengthens almost every major organ in the body, promotes bone density, and boosts the immune system
San Rafael, California (PRWEB) January 29, 2014
Vionic Footwear with Orthaheel Technology announces the 3rd annual nationwide Walkabout, a 28-day Quest for Good Health campaign, kicking off with a call for pledges now through the end of February, during National Heart Health month. Participants will be required to register online at http://www.vionicshoes.com/2014-walkabout-signup to take the pledge for good health and participate in the social media driven campaign. In collaboration with integrative wellness pioneer Dr. Andrew Weil and celebrity fitness trainer Juliet Kaska of JK Zen Fitness, innovative footwear brand Vionic will encourage participants to commit to walking just thirty minutes a day over the 28-day period in March to start their personal commitment to attaining physical and emotional health and well being.
During the campaign, pledged participants will receive encouragement, 28 fitness tips to increase the walking challenge from Juliet Kaska and healthy recipe ideas from Dr. Weil via weekly emails and social media in addition to the chance to win weekly prizes. A grand prize winner will be selected at the culmination of the campaign, based on participation, to win a "Red Carpet Ready" weekend where they will be flown to Los Angeles to train with celebrity trainer Juliet Kaska at JK Zen Fitness in West Hollywood. The winner will also receive Vionic footwear, athletic wear and fitness gear to begin their personal health journey.
The Walkabout campaign is open to the public to serve as champions of walking, putting a spotlight on walking and taking steps toward a personal commitment to a healthy lifestyle at the start of the new year. The campaign is also an opportunity to engage in an online community of walkers, encouraging anyone and everyone to get out and walk for wellbeing.
"Walking is what your body is designed to do. It strengthens almost every major organ in the body, promotes bone density, and boosts the immune system," says Dr. Weil. "There's no special skill, training or equipment needed, just the right footwear."
Research shows that walking as little as 30 minutes a day can lower the risk of heart disease (America's Number 1 killer) by as much as 40 percent. By even taking two or three 10-15 minute walks per day, people can improve blood pressure, reduce the risk of diabetes and improve mental wellbeing.
Celebrity trainer and fitness expert Juliet Kaska strongly recommends walking as a way to get and stay fit for even beginning exercisers: "Walking is an easy, stress-free exercise, clearing your mind, strengthening your heart and toning muscles."
According to a study by the American Podiatric Medical Association (APMA), 72 percent of Americans say they do not exercise because foot pain prevents them from doing so. This astounding figure emphasizes the importance of getting started with a pair walking-friendly shoes or sandals that are breathable, offer good arch support, are relatively lightweight and have flexible soles to allow the front of the foot to flex comfortably.
Vionic Footwear with Orthaheel Technology offers footwear that helps prevent and alleviate foot pain and fits a variety of lifestyles. The new Zen fitness shoe is the official shoe of the 2014 Walkabout campaign and features a removable orthotic footbed that supports feet and helps realign the lower-legs, improving posture and balance – an ideal option for daily fitness walking.
Join the conversation on Facebook, Twitter and Instagram with #VionicWalkabout
# # #
About Vionic with Orthaheel Technology
Orthaheel is now Vionic with Orthaheel Technology, aligning its 3 brands, Orthaheel, Dr. Weil Integrative Footwear and Vionic into a single brand with the same trusted technology. A style-meets-science brand of women's and men's contemporary shoes with built-in biomechanical orthotic support, Vionic addresses the biomechanics of the feet by providing top-rated relief from common problems such as heel, knee and back pain.
Australian Podiatrist, Phillip Vasyli introduced the award-winning Orthaheel brand in 1991 in order to reach an even larger audience of people struggling with heel, knee, leg and lower back pain. In addition to orthotics, the unique Orthaheel technology is a built-in staple for the Vionic collection of shoes, sandals and slippers.
Vionic with Orthaheel Technology offers the only sandals recommended by both the American Podiatric Medical Association (APMA) and America's leading wellness doctor, Andrew Weil, MD. Invented by Australian podiatrist Phillip J. Vasyli, Vionic offers shoes and orthotics for women and men with unique technology that is clinically shown to reduce over-pronation, which can improve foot function and relieve associated pain.
For more information and to view informative articles written by Phillip Vasyli, please visit http://www.orthaheelusa.com. The line ranges in retail price from $59.95 to $149.95 and is available at vionicshoes.com, zappos.com, Footsmart.com and select retailers across North America.
About Dr. Weil
Andrew Weil, M.D., is an internationally recognized leader and pioneer in the field of integrative medicine, a healing-oriented approach to health care encompassing body, mind, and spirit. He has an A.B degree in biology (botany) from Harvard College and an M.D. from Harvard Medical School.
Dr. Weil is praised for his views on leading a healthy lifestyle, his philosophy of healthy aging, and his critique of the future of medicine and health care. Approximately 10 million copies of Dr. Weil's books have been sold, including Spontaneous Healing, 8 Weeks to Optimum Health, Eating Well for Optimum Health, The Healthy Kitchen, Healthy Aging, Spontaneous Happiness, and True Food: Seasonal, Sustainable, Simple, Pure.
For more information and to view informative videos on the health benefits of walking and the Weil Integrative Footwear for Vionic Rhythm walking shoe, please visit http://www.weilbeing.com.
Dr. Weil donates all of his after-tax profits from the sale of the Vionic with Orthaheel Technology products directly to the Weil Foundation, a not-for-profit organization dedicated to supporting integrative medicine through training and research.
About Juliet Kaska
Juliet Kaska, creator of JK Zen Fitness and Vionic spokesperson, is one of the country's leading fitness experts and entrepreneurs. For more than a decade Kaska has trained numerous Hollywood stars (including Kerry Washington, Ali Larter, Stacy Keibler and Pink); has consulted and been featured in countless media outlets; and has launched fitness studios and training programs throughout Los Angeles. In 2010, Kaska created JK Zen Fitness, which includes the revered JK Zen Fitness Pilates Studio that is quickly becoming the most sought after boutique studio in Los Angeles.
Kaska is trained and certified in multiple disciplines making her workout programs both diverse and innovative. Her certifications include a Second Generation Master Pilates Teacher; a duel-certified personal trainer from American Council on Exercise and the National Academy of Sports Medicine; and a trained Yoga teacher by guru Dharma Mittra.
For More information please visit: http://www.jkzenfitness.com, and like her on Facebook https://www.facebook.com/julietkaskafitness or follow on Twitter http://twitter.com/JulietKaska.