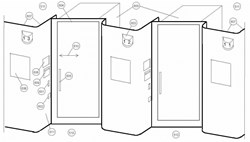 ... it is about the quality of products we purchase, which are guaranteed by the patent pending technology.
San Diego, CA (PRWEB) January 28, 2014
ADVS-Technologies recognizes that time is valuable to store customers, while quality of purchased products is essential to maintain quality of life. These ideas are transposed in ADVS' patent application "Improving Item Transaction with real Time Controls and Navigation", which is in the final stages of approval by the USPTO, with all claims allowed.
"The invention, trade-marked as Я-store™," according to inventor Zack Braunstein, "represents a significant step forward, delivering superior level of customer services, while sustaining high quality of products."
Grocery stores have made significant progress in automating transactions, including enhancing and expanding self-serve checkout lanes, etc. Still, there is a need for improvements, particularly in providing better assurance to customers about products quality.
The scalable automation supported by the Я-store™ patent pending technology is cost efficient and versatile for any grocery store, regardless of size or location. The technology will allow implementation of top level quality operations, while maintaining competitiveness in product pricing.
Я-stores™ can range from sophisticated small scale grocery stores which provide excellent service for busy customers in crowded downtown city areas, up to super large scale grocery stores.
"The bottom line," concludes Braunstein, "it is about the quality of products we purchase, which are guaranteed by the patent pending technology. The technology is also business and customer friendly. Win-win situation for all."
According to Braunstein, once the technology is developed, an investment of as little as $250K can setup an Я-store™. A small scale grocery oriented Я-store™ while delivering superior quality of products and services, can be operated by one person supervising transactions and one additional support person sustaining the required inventory.
For the ones curious about the name: the letter "R" is "mirrored" toward the customer side, just as the one in the "Я-World™," emphasizing the intention of providing the best possible service for customers.
About ADVS-Technologies:
ADVS-Technologies is a young and ambitious company specializing in the development of innovative proprietary technologies with an extensive portfolio of patented technology in the areas of illumination systems, power distribution systems, pharmacy, store automation, and transport systems. The objective of ADVS-Technologies is to provide effective and efficient environmentally friendly solutions with the intent of improving quality of services.
For more information, please visit http://www.advs-technologies.com.