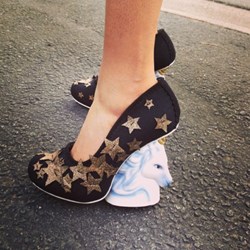 There is a thirst for original design in the women's shoe market today and these designs really hit this sweet spot.
San Francisco, CA (PRWEB) January 29, 2014
Extending its innovative and highly curated shoe assortment, fashion retailer Ashbury Skies announces a partnership with London-based Irregular Choice to debut three styles that highlight unicorns, cats and mousetraps.
Ashbury Skies is the first U.S. retailer to launch this whimsical shoe collection.
This distinctive Spring 2014 shoe assortment includes these styles:
Eternal Friend: Designed around the magical quality of the unicorn, this enchanted statement pump is unlike any shoe a woman has in her closet.
Paw Print: This seriously adorable cat-heel shoe shows Irregular Choice's seasoned eye for eccentric footwear design. Its feline-inspired form was made to not fit in.
Mousetrap: Irregular Choice tells a cat-and-mouse fashion story with this design and highlights its unstoppable creativity.
Irregular Choice founder and designer Dan Sullivan, is the mastermind behind these unique, one-of-a-kind heels. He said, "I've always loved the vintage hand-carved wooden wedges that told a story of a farmyard or a beach scene. Over the years I have used some hand-carved wooden heels, and I wanted to take this concept to the next level. So in 2010 I designed an Ice Cream Cone heel. It received an amazing reaction, so I followed up with the Bunny, the Gnome, the Santa and now the Unicorn and Cat."
"We love the freshness that British label Irregular Choice brings to our customers," said Ashbury Skies founder, Mary Sue Papale. "Dan Sullivan has a knack for fusing textures and colors, along with a quirky sense of humor in his design work. There is a thirst for original design in the women's shoe market today and Dan's designs really hit this sweet spot."
The Ashbury Skies assortment features exclusive variations of the Irregular Choice collection. The Paw Print has a zebra-striped hair-calf upper with a cat-heeled bottom. The Eternal Friend has a twill fabric upper with gold stars and a unicorn-heeled bottom. The Mousetrap has a fabric upper with a mouse ornament to complement the cat heel. Introductory prices are $199.
Ashbury Skies is an online retailer of street fashion footwear by indie designers including Irregular Choice, Jeffrey Campbell, GeeWaWa, YRU, Privileged, Miista. Madison Harding, Deandri and UNIF among many others. Styles include: boots, booties, wedges, flat forms, flats, pumps and sandals. Ashbury Skies also has an exclusive wedding line, Cold Feet by Jeffrey Campbell, which caters to the unconventional bride. Founded in 2011, Ashbury Skies offers free shipping and free returns from its base in San Francisco, CA to customers across the United States and around the world.