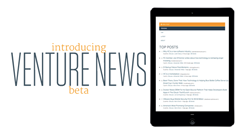 San Francisco, CA (PRWEB) January 28, 2014
FundersClub (http://www.fundersclub.com), the world's first online venture capital firm, announced the launch of Venture News, a social news and commentary platform powered by the private investor ecosystem.
Venture News is primarily designed to provide highly relevant news to individual enthusiasts of private investing, including: active private investors, financially qualified but not yet active private investors, angel investment group members, VC and PE professionals and entrepreneurs.
The platform works similarly to other user-powered communities. Registered users can submit content in the form of links or text posts. Anyone can view the content, but an account is required for posting, asking questions, commenting on others' posts, and voting submissions "up."
"We launched Venture News with private investors in mind," said Alex Mittal, co-founder and CEO of FundersClub. "We realized that while there are other great news aggregation platforms, there wasn't a platform solely focused on early stage startup investors and the companies they fund. We aren't just facilitating investments; we also are facilitating a community."
Venture News will roll out additional features and enhancements in the coming weeks. To create an account and start posting go to: https://fundersclub.com/venture-news/
About FundersClub
FundersClub is the world's first online venture capital firm, making it easy for elite startups and accredited investors to connect. The FundersClub network of 7,500+ accredited investors get access to pre-screened, high-growth-potential startups, once only presented to an exclusive group of Silicon Valley insiders. In return, investors help companies succeed through capital and value-added support, from early-stage to successful exit or IPO.
Alex Mittal and Boris Silver launched FundersClub in July 2012 with one goal in mind – to change the way the world fundraises and invests. Together they had founded five companies, raised more than $20 million in funding and invested as angels in other startups. For FundersClub, the pair raised capital through their own platform and from other top investors including Y Combinator, First Round Capital, Spark Capital, Intel Capital, Andreessen Horowitz, Felicis Ventures, and Tim Draper. All FundersClub members with access to investment opportunities have been certified as accredited investors. To learn more about FundersClub visit http://www.fundersclub.com. For further details on how the platform works visit: http://www.fundersclub.com/site/howitworks.