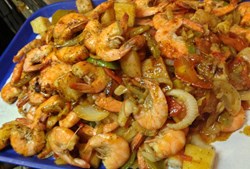 "For six decades we have concentrated on giving the best food and experience we can to everybody that comes in the door," explained Mike Ungaro, Vice President, San Pedro Fish Markets
(PRWEB) January 28, 2014
Benefiting from a mellow, sunny winter, California's Largest Seafood restaurant, San Pedro Fish Market reports record winter crowds.
"We are on pace to serve one million diners over a twelve month period if the weather continues," says Mike Ungaro, Vice President of San Pedro Fish Markets. "Each of our dinners is served family style from seafood and vegetables chosen from our market displays. People love it and keep coming back obviously in record numbers."
Starting in 1957 by two teenage cousins backed by the father of one of the boys, San Pedro Fish Market has steadily grown into being one of the few 3,000 seat restaurants in the world while at the time maintaining a 4 star rating on Yelp after hundreds of reviews.
"For six decades we have concentrated on giving the best food and experience we can to everybody that comes in the door," explained Ungaro. "As a result, a trip to San Pedro Fish Market is usually a three hour party, starting in a traditional seafood market setting, to our open air kitchens where we cook what patrons pick out for free, to the thousands of seats, live music and other fun in the sun activities we have. Families come and make a day of it."
While each year has built steadily and the business took a large leap with large scale upgrades during the last few decades, the last three years have seen the business undergo huge growth.
"Our popularity now cuts across all demographic lines because the word, happily is out," continued Ungaro. "When Lonely Planet called us a decadent feast and television reports started rolling out and we continued to maintain the high quality and flavorful food, our numbers grew quickly to the point where in the next month we will approach a million a year."
About San Pedro Fish Market & Restaurant
Founded in 1957, San Pedro Fish Market & Restaurant has grown into a top rated destination on the LA waterfront whose seafood, Lonely Planet described by saying, "Seafood feasts don't get any more decadent than at this family-run harbor-view institution." Routinely serving more than 10,000 diners each week, San Pedro Fish Market is also one of the most recognized brands in the frozen food section of premium and mass market supermarkets across the Southwest and Hawaii where consumers can pick from four microwavable versions of our world famous shrimp tray. Just as at the restaurant and market, all ingredients are the freshest available and meant to be prepared and enjoyed directly in the kitchen with your favorite ice cold beverage. For more information, go to our website at http://ow.ly/obvmS.