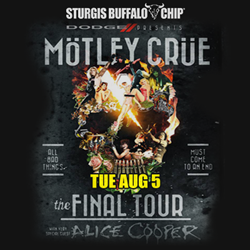 Mötley Crüe will perform at the Legendary Buffalo Chip during the bands final tour.
Sturgis, SD (PRWEB) January 28, 2014
The Sturgis Buffalo Chip announces that Mötley Crüe will be making a stop at the Chip's annual Motorcycle and Music Festival during the band's final tour, which is aptly named "All Bad Things Must Come to an End." The glam metal rebels are taking one last tour of the U.S. with special guest, Alice Cooper, and both will take to the Buffalo Chip's main stage on Tuesday, Aug. 5, 2014 during the Sturgis Rally festival.
Mötley Crüe originally rose to fame in the 1980s with their rough attitude, outrageous look and irresistible sound. They drew inspiration from their wild lives to inspire an enormous list of hit songs including "Kickstart My Heart," "Home Sweet Home," "Wild Side," "Girls, Girls, Girls," "Shout at the Devil," "Dr. Feelgood" and "Smokin' in the Boys Room." The members of Mötley Crüe have decided to end their careers on a high note, citing that many bands often fade into obscurity.
"We believe artists should be in control of their own destiny and that destiny also includes when it should be done so that their fans can forever be proud," Mötley Crüe bassist, Nicky Sixx, said in a recent interview with Rolling Stone.
"Mötley Crüe make their own rules, and that's what our fans love about them," says Rod Woodruff, president of the Sturgis Buffalo Chip. "They don't just do something because someone expects them to or quietly watch the world pass by. They've all lived crazy lives, and look where it's gotten them. It's inspired music that's loved by millions around the world."
Legendary shock-rock entertainer, Alice Cooper, will take the stage at the Buffalo Chip's Sturgis Rally festival prior to the Mötley Crüe performance. Cooper is known for a style and stage show that combines garage rock with elements drawn from vaudeville and horror movies—often including such stage props as guillotines, fake blood, electric chairs and boa constrictors. He invented theater rock, and at every show Cooper proves he's continually reinventing it.
Fans can expect to hear many of Alice Cooper's well-known songs, such as "School's Out," "I'm Eighteen," "No More Mr. Nice Guy," "Billion Dollar Babies," "Under My Wheels," "Welcome to My Nightmare," "Elected" and "Poison" during his Buffalo Chip performance.
The 33rd annual Motorcycle and Music Festival will deliver nine days of non-stop entertainment, Aug. 1-9, 2014. Over 20 live bands will take to the Buffalo Chip's main stage during the festival, including Mötley Crüe, Alice Cooper, Lynyrd Skynyrd and Florida Georgia Line. More band announcements will be coming throughout the year. Camping passes are on sale now and all concerts are free with camping. For more information or to get your passes, visit http://www.BuffaloChip.com or call (605) 347-9000.
About The Sturgis Buffalo Chip
Since 1981, the Sturgis Buffalo Chip has provided nine days of epic live music experiences and exciting activities for fans from around the globe. The family-owned and operated Sturgis Buffalo Chip® is host to the Sturgis Rally's cornerstone event, known as the Largest Music Festival in Motorcycling™ and The Best Party Anywhere™. Concerts are free with camping. Passes grant access to music industry's hottest stars, the Bikini Beach Swim Paradise, 25 bars, mouth-watering food and beverage vendors and thrilling exhibits. The Sturgis Buffalo Chip offers clean, well maintained facilities, private showers, cabins, RVs, paved roads and more. Outrageous events such as unforgivably hot bikini contests and jaw-dropping daredevil stunts are a few of the many daily spectacles unique to the Chip. The famed creek-fed 580-acre camping resort is located three miles east of Sturgis, SD. Now in its 33rd year, this event is one of the few remaining independent music festivals in the world. The Buffalo Chip is a festival experience like no other. More details are available at http://www.BuffaloChip.com.