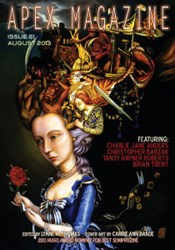 Hollywood, CA (PRWEB) January 27, 2014
Brian Trent of Prospect, Connecticut has just had his second major win launching his fiction career since he was published in the bestselling Science Fiction anthology series – "L. Ron Hubbard Presents Writers of the Future Volume XXIX" this past April. Now, he has just earned "Best Story of the Year" as voted by fans and readers of Apex Magazine. "A Matter of Shapespace" appeared in issue 53 of the magazine (August, 2013)
Apex Magazine is a science fiction and fantasy publication and is one of the biggest and most popular on-line in the genre.
Earlier last year, Brian was honored at the 29th Annual L. Ron Hubbard Achievement awards in April, 2013 at the Wilshire Ebell Theatre in Los Angeles. Brian's winning story, "War Hero," was published in the bestselling anthology. In August, Brian was also featured in both the online publication Daily Science Fiction with his story, "Sparg," and later published "Through the Eons Darkly" in Galaxy's Edge magazine.
The Contests were initiated by L. Ron Hubbard in 1983 shortly after returning to the field of science fiction with his bestseller "Battlefield Earth." And to date the contest has launched the careers of 12 New York Times bestselling authors.
For more information on Brian Trent please visit, http://www.BrianTrent.com.
For more information on the contest, go to http://www.writersofthefuture.com.