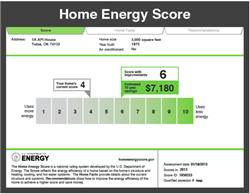 The ability to test Home Energy Score's effect on deeper retrofit measures will give us the insight we need to continually improve customer adoption of energy efficiency.
Seattle, WA (PRWEB) January 28, 2014
Motivating Homeowners
The study aims to answer a simple and important question: do Home Energy Score reports effectively drive increased follow-through and deeper retrofits?
Using easily understood scores to raise awareness about the energy performance of homes has the potential to transform the residential energy-efficiency market by motivating homeowners and homebuyers to invest in energy-efficiency upgrades.
The U.S. Department of Energy's Home Energy Score program is also engaging academic leaders in behavior research to support the evaluation efforts and maximize the impact of the Home Energy Score in driving demand for residential energy efficiency. Thirty program Partners have used Home Energy Score to score more than 8,500 homes nationwide.
The EnergySavvy study involves randomly selected control and test groups of homeowners. Homeowners in the control group receive the home energy report that auditors provide through the utilities' existing programs; homeowners in the test group receive an additional Home Energy Score report. All audit and project data are tracked, quantified and analyzed using EnergySavvy's Optix platform, cloud-based software for utility demand-side management, to provide firm correlation data. This will confirm how use of the Home Energy Score relates to program follow-through and deeper retrofit activities. DOE's Home Performance with ENERGY STAR® programs are also engaging EnergySavvy to support the transformation of the home performance industry by using a standardized language for data transfer.
New Jersey Natural Gas: The SAVEGREEN Project®
New Jersey Natural Gas (NJNG) is rapidly expanding the number of projects through The SAVEGREEN Project, the utility's suite of energy-efficiency programs, and building on the huge success of their on-bill financing program.
"EnergySavvy's Optix platform allows us to provide an enhanced customer experience," said Jerry Ryan, Energy Efficiency Operations Manager for New Jersey Natural Gas. "Now we can show customers how their home's energy consumption compares to similar homes and customize their audit reports to our program's incentives. The ability to test Home Energy Score's effect on deeper retrofit measures will give us the insight we need to continually improve customer adoption of energy efficiency."
EnergyFit Nevada: Next Phase of Growth
Denee Evans, the Executive Director of EnergyFit Nevada, stressed the importance of intelligent efficiency as EnergyFit transitions from an ARRA-funded organization to an ongoing sustainable, statewide program.
"As we embark on our next phase of growth, EnergySavvy will allow us to do more retrofit work with less administrative overhead, reduce the time and effort required by contractors to work with the program and engage Nevada homeowners more intelligently," Evans said. "As a DOE Home Energy Score study participant, we'll be learning and incorporating the latest best practices in customer engagement."
Study Invites One More Program
The grant supporting the Home Energy Score study has capacity for one additional utility or state program study participant. To gain consideration for the study, program executives are invited to meet both DOE and EnergySavvy this week, January 27-30, 2014, at the Association of Energy Services Professionals (AESP) National Conference in San Diego. Representatives will be available at booth number 10 in the conference exhibit hall.
About New Jersey Resources
New Jersey Resources (NYSE: NJR) is a Fortune 1000 company that provides safe and reliable natural gas and clean energy services, including transportation, distribution and asset management. With annual revenues in excess of $2 billion, NJR is comprised of five key businesses:

New Jersey Natural Gas is NJR's principal subsidiary that operates and maintains 7,000 miles of natural gas transportation and distribution infrastructure to serve approximately half a million customers in New Jersey's Monmouth, Ocean and parts of Morris and Middlesex counties.
NJR Clean Energy Ventures invests in, owns and operates solar and onshore wind projects with a total capacity in excess of 56 megawatts, providing residential and commercial customers with low-carbon solutions.
NJR Energy Services manages a diversified portfolio of natural gas transportation and storage assets and provides physical natural gas services and customized energy solutions to its customers across North America.
NJR Midstream serves customers from local distributors and producers to electric generators and wholesale marketers through its equity ownership in a natural gas storage facility and a transportation pipeline, both of which are Federal Energy Regulatory Commission, or FERC-regulated investments.
NJR Home Services provides heating, central air conditioning, standby generators, solar and other indoor and outdoor comfort products to residential homes and businesses throughout New Jersey and serves approximately 120,000 service contract customers.
NJR and its more than 900 employees are committed to helping customers save energy and money by promoting conservation and encouraging efficiency through Conserve to Preserve® and initiatives such as The SAVEGREEN Project® and The Sunlight Advantage®.
For more information about NJR:
Visit http://www.njresources.com.
Follow us on Twitter @NJNaturalGas.
"Like" us on facebook.com/NewJerseyNaturalGas.
Download our free NJR investor relations app for iPad and iPhone.
About EnergyFit Nevada
A nonprofit, founded in 2009 in partnership with the Governor's Office of Energy, EnergyFit Nevada is a statewide, collaborative energy efficiency organization. It provides solutions for residential, commercial, and government sectors to move energy forward by delivering measurable results and long-term benefits. EnergyFit oversees residential upgrades that have delivered an energy savings of at least 20 percent to participating homeowners, injected over $3.5 million into local economies, and promoted a collaborative approach in recognizing energy efficiency as a resource. Find out more at energyfitnevada.org.
About EnergySavvy
EnergySavvy is the leading provider of cloud-based software for utility demand-side management (DSM). Its flagship product, Optix, brings utilities, their customers and trade allies onto a common platform to drive greater savings per dollar, increase customer satisfaction and achieve breakthrough quantification. Founded in 2008 in Seattle, EnergySavvy Optix powers leading utility energy efficiency programs in more than twenty states. For more information visit http://www.energysavvy.com or follow on Twitter at http://www.twitter.com/energysavvy.