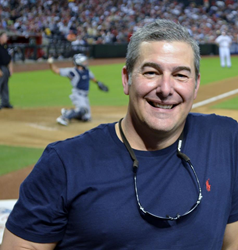 Everyone can learn from these simple but essential principles of success.
Lafayette, Louisiana (PRWEB) June 20, 2014
The United States of America has long been known as the country of endless opportunity. However, many Americans seem to have forgotten this fact--they're so accustomed to the wealth of opportunity just being there that they no longer notice what it means for them. However, Todd McBroom is here to wake the nation up to the ability to create wealth and financial independence. In his new book, God Was Self- Employed, McBroom even teaches readers strategies to help them do just that.
Network marketing is a prime example of an avenue to financial independence. Network marketing tends to be more inclusive that other avenues; in contrast to, for example, working in finance, network marketing doesn't require participants to have a particular education level or financial status going in. McBroom knows this firsthand; his first exposure to it came from Zig Ziglar, and he has experience with network marketing behemoth Amway. He also lacks a formal education and is, instead, self-taught, gaining his business acumen from books, mentors, and his own tireless resolve. In this way, McBroom is a perfect example of someone who truly benefitted from this particular system.
McBroom feels confident that God Was Self- Employed will assist anyone looking to become financially independent. He says, "Everyone can learn from these simple but essential principles of success." Furthermore, readers will gain concrete knowledge concerning the application of these principles, making the book as practical as it is inspirational.
"Financial freedom is like freedom as described in the Bible," McBroom adds. "If knowing the truth will set you free, then knowing these principles to the point that they're a part of you, and built into your belief structure, then it's impossible not to apply them."
Todd McBroom
Todd McBroom is a Christian, husband and father, entrepreneur, author, and speaker. He often uses lessons in the Bible to enhance his own teaching, endeavoring to help people deal with and succeed in the real world. Todd hopes to inspire others to take advantage of the many opportunities offered to them through his unique combination of expertise in both business and ministry.
For more information, please visit ToddMcBroom.com or connect directly with Todd at toddmcbroom(at)gmail(dot)com, 337.349.6426.