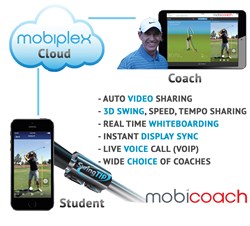 Golfers can finally get coaching from the world's best pros in a comprehensive, convenient and affordable manner.
Santa Clara, CA (PRWEB) January 28, 2014
Sports training will soon never be the same. Mobiplex, makers of SwingTIP, are today introducing MobiCoach—the world's first real-time, remote golf coaching and video analysis service. With the aid of the free SwingTIP iOS app, and optional SwingTIP wireless motion sensor, golfers can improve their game via a live lesson from a coach anywhere in the world. Launched today, the new MobiCoach service includes a growing roster of top golf coaches from institutions such as Jack Nicklaus Golf Academies, Troon Golf Academy, and Jeff Ritter Golf.
Mobiplex has developed a powerful mobile, cloud-based software platform that brings coaches and students together wherever they may be. With the MobiCoach service, golfers can get high quality coaching in as little as 15 minutes be it at home or on the range.
"It is hard to overstate the disruptive impact this technology will have on sports education," said Vijay Nadkarni, founder and CEO of Mobiplex. "This is the first time a sports tech platform combines man and machine to allow for instant feedback, analysis and improvement. Golfers can finally get coaching from the world's best pros in a comprehensive, convenient and affordable manner. For example, a golfer in Australia can take a live lesson from a marquee coach in the States. And coaches can teach year-round, even from their home offices, without being handicapped by poor weather or fixed work hours."
There are two ways for golfers to utilize the MobiCoach service: either as a free standalone SwingTIP iOS app; or by combining the same app with a SwingTIP motion sensor and the iOS app for richer analysis.
The free SwingTIP iOS app will include a coach-initiated video capture feature, where the coach can remotely record and view a live video of the golfer's swing, while the golfer focuses on the instruction. Next, the coach can offer immediate feedback and continue to monitor and advise on the golfer's swing or putt over the course of the lesson. And, by using the SwingTIP sensor, a more complete level of analysis is enabled.
The MobiCoach cloud-based service incorporates:

Live Voice Over IP (VOIP) - a live voice call between the student and coach
Auto-Video Sharing - records the golfer's swing or putt; instantly displays to the coach
DisplaySync™ - mirrors the coach's screen to the student's for visual instruction
Real-time Whiteboarding - enables the coach to diagram feedback instructions on the mobile display to further illustrate imperfections and corrections
Side by Side Comparison – coach can compare and annotate two swings concurrently
Comprehensive Backend - within a personal MySwingTIP.com page, a golfer can choose an academy or coach, book lessons and pay securely (while coaches can also promote their services, as well as publish their calendar and coaching rates).
"To play their best, a golfer needs to be in regular contact with a qualified coach. Unfortunately, most golfers take infrequent lessons and bad habits can creep in between sessions," said Mike Malaska, 2011 National PGA Teacher of the Year and the Worldwide Director of Instruction for Nicklaus Academies. "With MobiCoach, coaches can provide regular lessons to students at a distance, which can lead to measurable and consistent improvement of their game."
"About 90% of golfers leave the academy brand within two weeks" said Tim Mahoney, Worldwide Director of Education, Troon Golf Academy. "The ground-breaking MobiCoach service allows continuing coaching from a distance, thereby maintaining their golf improvement plan in an enjoyable arena. With MobiCoach, we can take the Academy to the golfer."
Craig Stadler, winner of the 1982 Masters and 13 PGA Tour events said: "This development completely changes the face of golf instruction, and can greatly expand the reach of the coaching industry."
About Mobiplex Inc.
Founded in 2010 in Silicon Valley, Mobiplex® is a leader in mobile sports performance technology with a mission to revolutionize the way we learn, teach and enjoy sports. The creator of the award-winning SwingTIP golf swing analyzer, the company has developed MobiCoach™, the world's first real-time, remote coaching platform that connects coaches and students using wireless, mobile and cloud-based technology. The SwingTIP iOS app, and optional Bluetooth-enabled motion sensor for golfers, work hand-in-hand with the MobiCoach Pro iPad app for coaches to provide an effective, affordable, and convenient way for golfers to receive real-time instruction– anytime, anywhere. For more information, please visit http://www.mobicoach.com or http://www.mobiplex.com