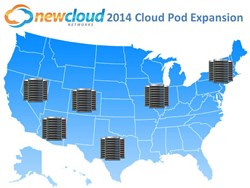 With our expanding data center resources, experienced engineering teams and exceptional customer service, we are looking forward to continued success for ourselves,our partners and our customers in 2014 and beyond. - Sam V. Kumar
Denver, CO (PRWEB) January 28, 2014
NewCloud Networks, a nationwide provider of Cloud Computing and Communications, has been in business for over 25 years and began offering Cloud Services across the country since 2006. The company specializes in Infrastructure-as-a-Service (IaaS), providing businesses with secure, virtualized IT solutions. With the rapid growth of the cloud services market over the last 4 years, NewCloud has announced the addition of its 3rd Cloud Pod location, which will be located in Phoenix, AZ and will be activated in February. This location will serve not only as a site for delivering Cloud Computing services, but also as a backup and disaster recovery site for the company's primary data center in the Denver Tech Center.
The Phoenix Cloud pod is being implemented using Cisco's "Flex Pod Infrastructure Solution" which consists of Cisco UCS (Unified Computing System) servers, Cisco ASA routers, Cisco Nexus networking fabric, and NetApp storage. "This is a high quality architecture that provides robust infrastructure for Could Computing," says Sam V. Kumar, President of NewCloud Networks. "We are standardizing on this design for all of our future cloud Pod locations across the country." In addition to Phoenix, NewCloud has plans to deploy Cloud pods in Dallas, Chicago, Las Vegas and New York/New Jersey. All of these Cloud pods will be tied together with a redundant private MPLS back bone with 10 Gig bandwidth. Kumar says this will give NewCloud "seamless nationwide coverage not only for back up and disaster recovery, but also for virtual servers and
desktop-as-a-service deployments."
With the expansion of their Cloud Computing locations and channel sales network, NewCloud is anticipating significant growth in 2014. According to Kumar, "we have been playing the Cloud game for 8 years now and know what it takes to be successful in this business. With our expanding data center resources, experienced engineering teams who create custom designs, and exceptional customer service, we are looking forward to continued success for ourselves,
our partners and our customers in 2014 and beyond."
About NewCloud Networks:
NewCloud Networks is a national Cloud Services Provider headquartered in Englewood,CO. NewCloud specializes in the deployment of Virtual Servers, Virtual Desktops, Backup and Disaster Recovery and White Label Cloud Computing.