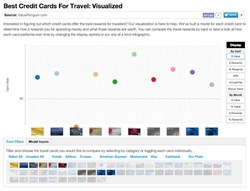 Loyalty programs should be part of a consumer's financial planning.
New York, NY (PRWEB) January 28, 2014
Visualizing your credit card reward getaways is as simple as 1-2-3 thanks to Valuepenguin.com's new unique infographic that compares travel credit card reward programs at a glance.
With so many travel reward credit cards on the market, just narrowing it all down to a useful list is enough to make you need a vacation! Consumers are inundated with options on pages and pages of reviews and comparisons, with no easy way to compare cards on the same basis.
Valuepenguin.com's new tool eliminates the time and hassle of comparison shopping individual cards. It is an intuitive and user-friendly tool that shows visual models of the rewards and terms of various credit card travel rewards programs. The interactive infographic allows consumers to narrow down choices from a database of credit cards according to: Value; $Rewards; APR; Annual Fee; Bonus Value. The infographic also includes a month by month analysis and rewards breakdown.
But when it comes to reward cards, one size doesn't fit everybody's spending habits. Many travel reward cards offer bonus points for car rentals, hotel bookings, or airplane tickets, and can multiply value for the right consumer. Since digital assets like rewards points and miles are playing an increasing role in people's lives, ValuePenguin.com analysts say care should be taken in choosing cards.
"Loyalty programs should be part of a consumer's financial planning," said Jonathan Wu, CEO and founder, Valuepenguin.com. "It's almost like your RRSP (Registered Retired Savings Plan). You do a little bit of research, you set your goals, and you put them in place. We just made it that much easier through our new interface."
In addition to the navigable graphs, ValuePenguin.com also ranks travel credit cards by each card's estimated rewards value based on your spending inputs. More details on the rewards breakdown as well as card features can be obtained by clicking on the credit card visual and name of the card.
About Us:
ValuePenguin.com is a consumer finance website that "deep dives" into data and analysis by reviewing and analyzing data, facts, filings and research for the most salient and relevant insights to help readers make decisions. Our sources are reports, databases, congressional bills, and regulatory filings. Our products are analyses and articles on a variety of topics that affect you: consumer finance, healthcare, auto insurance, education, et cetera.
Media Contact: Andrea Martone, 917-929-0527, andrea(at)valuepenguin(dot)com