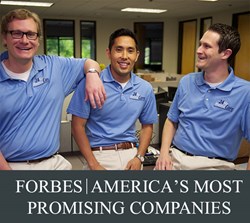 Each one of our employees has contributed immensely to the growth of 24Hr HomeCare and our extraordinary culture
Los Angeles, CA (PRWEB) January 28, 2014
24Hr HomeCare, a leading Los Angeles-based provider of in-home care services for seniors, has been named to Forbes Magazine's annual list of 100 of America's Most Promising Companies. Fast-growing, privately-held companies with annual revenues of under $250 million are taken into consideration during Forbes' selection process. Each company must demonstrate sustainable growth, ethical hiring processes, quality of management and establishment of important partnerships.
This is the second year 24Hr HomeCare has been ranked on Forbes Magazine's third annual list. Securing a position at No. 24, the company has climbed three spots since it was ranked No. 27 in 2013. 24Hr HomeCare was one of four companies in the Health Care Equipment and Services sector to have made the list, and the only in-home care provider of all 100 companies honored. Forbes noted that 24Hr HomeCare is contracted with the U.S. Department of Veteran's Affairs and the Multiple Sclerosis Society.
"Each one of our employees has contributed immensely to the growth of 24Hr HomeCare and our extraordinary culture," said Ryan Iwamoto, owner and Co-founder. "To be recognized by Forbes Magazine as the 24th Most Promising Company in America is a true testament to our culture of going above and beyond for our colleagues, community partners, caregivers and clients."
At the vanguard of developing Caregiver training processes, 24Hr HomeCare has created a proprietary Fall Prevention Certification Program in conjunction with the Fall Prevention Program of Contra Costa County. In February, 24Hr HomeCare will be introducing Whole 24™, a suite of materials to assist our Caregivers with providing diagnoses-specific care to clients with long-term health conditions.