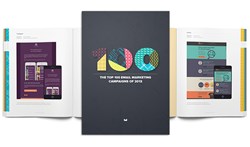 There's no question email marketing is becoming increasingly difficult to do well.
Sydney, Australia (PRWEB) January 29, 2014
Campaign Monitor released the Top 100 Email Marketing Campaigns eBook to provide agencies, designers and marketers with examples of highly effective email marketing campaigns. The eBook was created in response to data points that suggest email marketing popularity is increasing while subscribers' engagement is on the decline.
"There's no question email marketing is becoming increasingly difficult to do well. At Campaign Monitor alone, we've seen the average number of campaigns our customers send grow by 17% in 2013… but average response rates are on the decline by about 10%," says Agata Celmerowski, Campaign Monitor's Head of Marketing. "We compiled this eBook to share tips on design, content and marketing strategy from leading brands that are bucking that trend."
Download the free eBook to see the top 100 email marketing campaigns of 2013.
Campaign Monitor's "Top 100 Email Marketing Campaigns" features examples from leading brands such as Ikea, Fitbit, SmugMug, Litmus, Kraft, Red Balloon, Nike and more. The eBook includes:

High performing email newsletters with open rates of more than 50%.
Examples of great design, including beautifully responsive newsletters.
Emails that go against conventional email marketing best practices and still drive top results.
Campaigns that saw 20% improvement in open rates from A/B testing.
Brands that consistently use the latest design techniques and email marketing strategies, and more.
To download the eBook, visit http://www.campaignmonitor.com/top100.
About Campaign Monitor: Campaign Monitor is a leading email marketing platform that makes it easy to attract new subscribers, send them beautiful email newsletters and see stunning reports on the results. The company was founded in 2004 and today sends 1.3 billion emails a month. More than 800,000 designers, agencies and amazing companies of all shapes and sizes across the globe rely on our software to manage their email marketing.