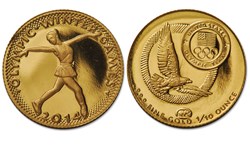 Minneapolis, MN (PRWEB) January 29, 2014
GovMint.com®, "your one best source for coins worldwide," announced the release of the official 2014 U.S. Olympic Team Winter Games Proof Set. The complete 4-piece gold and silver proof set features the winter sports of figure skating, ice hockey, speed skating, and skiing. The proofs were designed by respected Russian coin designer Alex Shagin who has created designs for the U.S. Mint, Singapore Mint and Leningrad Mint. In addition, his work on the Moscow 1980 and Los Angeles 1984 Olympic Games led to international recognition culminating to such awards as the Moscow Metallic Art Award and the American Numismatic Association Excellence Award among other prestigious acknowledgments.
The Gold and Silver Proof sets are struck in .999 silver and .999 gold and include a one-ounce silver proof, a five-ounce silver proof, a tenth-ounce gold proof and a one-ounce gold proof. The four designs are featured on the obverse, and the common reverse includes the official United States Olympic Committee logo, American eagle, weight, purity and a special Russian bear privy mark. The sets have been certified and graded by Numismatic Guaranty Corporation (NGC) and feature a USOC label. The proof sets are accompanied by a numbered Certificate of Authenticity and arrive in a customized display box.
GovMint.com and the USOC have worked together on several Olympic Games programs, including the Sydney 2000, Beijing 2008, Vancouver 2010, and London 2012 Olympic Games, and will do so again for the Rio 2016 Olympic Games.
"We are pleased to work with Alex Shagin and again with the USOC to exclusively distribute these proof sets and provide GovMint.com customers with an opportunity to include the 2014 U.S. Olympic Team Winter Games proofs to their collection," said Bill Gale, President of GovMint.com. "It is a pleasure to be an exclusive distributor and participate in the excitement around the Sochi 2014 Olympic Winter Games in the United States."
About GovMint.com®
Since 1984, GovMint.com is one of the world's leading sources of collectible coins. Headquartered in Minneapolis, MN, GovMint.com is an official distributor for seven major world mints and offers collectible coins from over 120 countries. GovMint.com has four offices in the U.S. More information at http://www.GovMint.com or call 800-642-9160.
Source: GovMint.com
Contacts
Business Development:
Sara Fehrenbacher
sfehrenbacher(at)govmint(dot)com
+ 1 952 707 7296