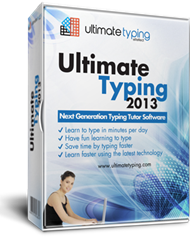 Prioritizing goals, whether personal, professional, or social, gives a clear, uncluttered picture as to what matters, what's urgent, and what can be postponed.
New York City, NY (PRWEB) January 29, 2014
Typing skills software developer eReflect has just published a 2014 blog post on how to use smart tips to achieve goals. The Ultimate Typing™ developer emphasizes in the blog post that goal visualization and positive feedback are two essential techniques for achieving milestones and successfully identifying and reaching goals.
Putting priorities into a hierarchy is another recommendation outlined in the blog post. Dedicating time to pinpoint and prioritize one's goals is crucial because it lets the goal-setter focus on each goal exclusively, free from distractions, thereby ensuring that the goal will eventually be realized. Prioritizing goals, whether personal, professional, or social, gives a clear, uncluttered picture as to what matters, what's urgent, and what can be postponed. This is what will give a person the clarity and incentive to start the process towards achieving their goals, no matter how challenging the task might be. By using these techniques, fear is replaced by enthusiasm, and it's even possible to feel invigorated by the process of goal-setting and planning.
Using typing training as a metaphor, eReflect wishes to show readers that goal setting will inevitably have its difficulties, no matter how much enthusiasm is brought to the process. That's why it's essential to be prepared ahead of time for those moments when motivation runs short. As the blog post also notes, flexibility is a desirable trait that will help a person to move through difficult times and find ways around obstacles. This is particularly important because it helps prevent falling behind schedule and is essential for quick recovery from setbacks and mistakes. Flexibility reduces the risk of burnout and helps prevent demotivation because it allows forward movement, even if that movement is not directly towards the goal at a specific time.
With the tips outlined in the recent blog post, the typing software developer emphasizes that goal setting is an unpredictable process where victories and defeats will often alternate with one another, until the goal is reached - at which point other, more ambitious goals can be set. eReflect's goal-setting tips aim to help people to confidently achieve more in 2014 and not be intimidated by their aspirations and New Year's resolutions.
For more details on Ultimate Typing™ please visit http://www.ultimatetyping.com/.
About Ultimate Typing™
Ultimate Typing™ software is designed specifically for the improvement of typing skills. Created by eReflect, a world leader in e-learning and self-development software, Ultimate Typing™ has been informed by the latest developments in the science of touch typing.
Since its creation in 2006 by Marc Slater, the company has already catered to over 112 countries all over the world, offering products with the latest cutting-edge technology, some of which are among the world's most recognized and awarded in the industry.