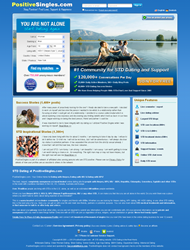 Los Angeles (PRWEB) January 30, 2014
PositiveSingles.com has released the results of the latest survey with helpful information about dealing with HPV-2, also known as genital herpes. Members who have experience dealing with the painful blisters on their genitals and surrounding area during breakouts are offering advice to others who suffer from the same condition. PositiveSingles is not just the leading dating site for people with sexually transmitted diseases; it is also a helpful site for information and support from other members. People make lasting friendships on the site, in addition to finding their match. This dual purpose is what sets this site apart from other dating sites.
Each month, PositiveSingles offers its members information about dealing with various types of sexually transmitted diseases. This month is focusing on herpes simplex virus. When dealing with the painful blisters in the groin area, most people consult with a physician for a prescription topical anesthetic to ease the symptoms. Members were asked which topical anesthetic they found to be the most useful in alleviating their symptoms.
The most popular prescription topical anesthetic was penciclovir cream, with 35.42 percent of the members preferring it. Penciclovir cream can stop viral shedding and shorten the duration of pain. Members said they have used this cream, or a similar product, for many years with good results. Members advised that it should be applied to the affected area immediately after the first signs of an outbreak.
The second most popular cream was acyclovir cream, with 27.83 percent of the votes. Acyclovir cream performs best at the first sign of pain. It stops the growth of the virus and helps to prevent transmission to other people. The only drawback is the fact that it can cause allergic reactions in some people, so anyone using it should contact a doctor at the first sign of an allergic reaction.
Docosanol cream received 20.73 percent of members' votes. Docosanol is used to treat cold sores or fever blisters. It can release symptoms such as tingling, pain, burning and itching. It prevents HSV from fusing to cell membranes, thus barring the entry of the virus into the skin.
Over-the-counter topical creams and ointments, such as Anbesol gel, Camphopenique, Herpecin-L, Viractin, Blistex and Zilactin can also be used, but do not provide the level of relief that can be found when using one of the prescribed creams and ointments. These are good to use when one can't get to see a doctor immediately, but the best relief comes from one of the prescription antibiotics with quality ingredients.