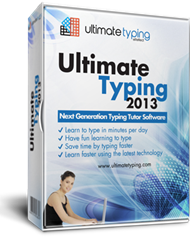 ...with an easy-to-use "beginner to advanced" progression that anyone can follow.
New York City, NY (PRWEB) February 01, 2014
Ultimate Typing™ software by eReflect has been recommended as a valuable tool for homeschooling families. According to the latest review of the software by the blogger/homeschooling mother at homeschoolmomblog.com, the software has proven to be a never-ending resource of activities, games, lessons and practicing ideas for her young learners.
The review on Ultimate Typing™ software is overwhelmingly positive; it praises the consistent results the software provides thanks to its comprehensiveness, as it covers all major aspects of typing skills, from ergonomics and dictation to punctuation and numeric keyboarding. The double focus on improving both typing speed and accuracy is given extra emphasis in the review. More specifically, the reviewer underlines how the step-by-step assistance offered by the software ensures that the right speed and accuracy goals can be set for each user. This level of customizability allows each user to focus on their weaknesses and ensure their strong points are further improved with each practice session.
The software's user-friendliness is extensively discussed as well. The reviewer mentions how even first-time users of the software have no trouble in getting themselves familiar with the interface, training structure and the overall feeling of the Ultimate Typing system. The software's common-sense lesson structure is also analyzed in the review, with an easy-to-use "beginner to advanced" progression that anyone can follow. The software nonetheless allows the user great flexibility to customize each practice session according to their own typing skills and milestones. The reviewer admitted that she was astonished by the fact that this flexibility means the software offers nearly unlimited practice materials. Apart from the structured lessons, the user can practice typing through a series of typing games and even use Wikipedia articles to combine learning and typing improvement.
The review concludes that Ultimate Typing™ is a valuable source for homeschooled children who are learning typing. It offers an integrated approach to typing, informed by expertise as the lessons and practicing materials reveal.
For more details on Ultimate Typing™ please visit http://www.ultimatetyping.com/.
About Ultimate Typing™
Ultimate Typing™ software is designed specifically for the improvement of typing skills. Created by eReflect, a world leader in e-learning and self-development software, Ultimate Typing™ has been informed by the latest developments in the science of touch typing.
Since its creation in 2006 by Marc Slater, the company has already catered to over 112 countries all over the world, offering products with the latest cutting-edge technology, some of which are among the world's most recognized and awarded in the industry.