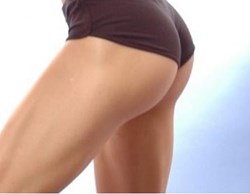 There's very high demand in improving the buttock area, and we listen to our customers.
Boston, MA (PRWEB) January 28, 2014
Buttocks lose volume over time as well as the face. "Even though Visage Sculpture specializes in non-surgical face shaping, there's very high demand in improving the buttock area, and we listen to our customers," Banar says.
Cellulite is also very common problem among women due to genetic predisposition. It is challenging to treat and usually can only be improved moderately and temporarily with procedures similar to endermologie (suction cupping and lymphatic drainage). With the latest trend in increasing the size of the derriere liposuction is not a good option for improving the shape of the buttocks. "Brazilian Butt Lift" is fat transfer to the buttocks from other areas of the body. This procedure has proven to be minimally effective as well, as more than 50% of transplanted fat necroses and buttocks deflate significantly in the first three months post-operatively. Lastly, there's surgical buttock augmentation that involves inserting implants under the gluteus muscle to improve the size and shape of the buttocks. This procedure carries very high risk of infection, chronic pain, nerve damage, and other very significant complications.
Masha Banar, PA-C, uses fillers and collagen stimulators to improve the appearance of buttocks successfully and is now offering this minimally invasive and safe procedure to her patients.
About Visage Sculpture
Visage Sculpture is premier Cosmetic Center dedicated to helping people look and feel more attractive, refreshed, and youthful in the most natural gentle way. Founded by Masha Banar, Board Certified Physician Associate, with more than a decade of experience in Plastic and Reconstructive Surgery, it has been featured on ABC News for its unique alternatives to surgical procedures.
Masha is a National Educator for Sculptra Aesthetic and teaches facial anatomy and injection techniques to Physicians and Nurses. Her extensive experience combined with artistic background and intuitive appreciation of proportions of the face brings ease to all procedures offered.
Complimentary consultation can be scheduled by calling at (617)795-0201 or via e-mail. Office is located at 31 Channing Street, Newton Corner, MA 02458.