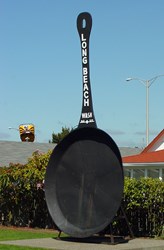 The Giant Clam Pan is an icon in Long Beach.
Long Beach, Wash. (PRWEB) January 29, 2014
An eight-foot in diameter, 500-pound clam pan will makes its comeback for this year's Razor Clam Festival, taking place on Washington's Long Beach Peninsula, April 19 and 20, 2014.
"The Giant Clam Pan is an icon in Long Beach," said Randy Dennis, festival organizer and owner of The Dennis Company. "It's great to see it being restored and used once again to entertain our clam-loving community."
On Saturday, April 19, from 2:30 to 4PM, the shiny, newer replica of the Clam Pan will be used for a clam fritter cook-off by the Ilwaco High School Culinary Arts Program students. Four celebrity chefs – Brock Johnson, Dahlia Lounge, Adrienne Chamberlain, Etta's, Dezi Bonow, Palace Kitchen, and Liam Spence, Lola – from Tom Douglas restaurants in Seattle will be the judges. The event will take place in Veterans Memorial Park (downtown Long Beach).
Other highlights include the following:

Free razor clam sighting and digging (8AM on Saturday, 9AM on Sunday) lessons by local pros, online sign up suggested – http://www.razorclamfest.com;
Contests with prizes for the biggest clam dug, the best looking limit, the number of clams in the tank, and the best student-decorated clam guns;
A first-come, first-served Chowder Taste Off accompanied by the North Coast Blues Band, Saturday, from 11AM to 1PM;
Dedication of the World's Largest Spitting Clam in the World's Largest Frying Pan park, 2PM on Saturday;
Strolling Queen La De Da's Mermaids and Beard's Hollow Pirates offering face painting and games for children on Saturday;
More walkabout characters including Bathing Clam Beauties, "Digger" – the razor clam, and Dennis Duck doing his impression of a clam digger.
Commemorative t-shirts, as well as vintage clam festival postcards, will be available for purchase. Clamming licenses and equipment are available locally at The Dennis Company, downtown Long Beach.
Over the weekend, Peninsula restaurants will also be featuring razor clam menu items.
Revived in 2013, Long Beach's Razor Clam Festival shares the ins and outs of digging for razor clams while celebrating this subsistence tradition. The Clam Festival originated in the 1940s, at which time the World's Largest Clam Pan toured the region to promote the event and the City of Long Beach.
The harvesting of razor clams is a popular beach activity enjoyed by multiple generations. With its long and expansive beach, the Long Beach Peninsula is one of the favorite clamming destinations in the state. A Washington State Fish and Wildlife Shellfish/Seaweed License is required, and a personal limit of the first 15 clams dug is strictly enforced. http://wdfw.wa.gov/fishing/shellfish/razorclams/
"Many of us have wonderful memories of digging for razor clams as children," says Andi Day, executive director, Long Beach Peninsula Visitors Bureau. "It's great to see this Northwest tradition continue on the Long Beach Peninsula."
About the Long Beach Peninsula
Located in the southwest corner of Washington State, the Long Beach Peninsula boasts an inviting mix of sought-out restaurants, ocean-view lodging, unique museums and attractions, lighthouses, shops and galleries, meandering trails, exceptional birding spots, and, above all, a 28-mile-long stretch of windswept, white-sand beach. City dwellers "discovered" the rejuvenating benefits of the beach over a hundred years ago and the Peninsula has been one of the Northwest's most enjoyable and refreshing beach getaways ever since.
For event, lodging, dining and other destination information, please call the Long Beach Peninsula Visitors Bureau at 800.451.2542 or access http://www.funbeach.com.
# # #