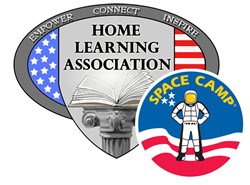 "We believe in the power of inspiration and curiosity and Space Camp does a wonderful job at providing both." J. Allen Weston
Englewood, CO (PRWEB) January 29, 2014
Inspired by rocket scientist Dr. Wernher von Braun, Space Camp started in 1982 and has become known as one of the premier math/science/technology educational programs in the United States hosting over 600,000 students and adults since its opening. With its new web series entitled "Space Camp," the Home Learning Association hopes to inspire homeschoolers from across the nation to join together for a week long adventure in September of 2014 at the Space Camp facilities in Huntsville, Alabama. This new web series highlights the adventures of an unlikely group of dance students and some of their parents who took on an extended 12 day adventure. The webisodes chronicle the many activities and learning opportunities that were made available and highlight just how fun learning can be.
The first webisode has now become available for viewing on the Home Learning Association's YouTube Channel starting today and a new webisode will be added each Tuesday morning hereafter until the series is complete. Each webisode is about 10 minutes long and includes unscripted real life experiences that will hopefully generate a few laughs while providing inspiration for further study in the wonders of science.
"We believe in the power of inspiration and curiosity and Space Camp does a wonderful job at providing both," said J. Allen Weston, Executive Director of the Home Learning Association.
Entire families will be able to experience the mysteries and wonders of the final frontier by participating in the Association's 2014 Space Camp Adventure. Any questions can be directed to the Home Learning Association's Adventure Travel team at AdvTravel at HomeLearningAssociation.com or by calling 303-800-5774. Download the PDF brochure at http://HomeLearningAssociation.com/space_camp.php for more information and check out the first webisode from the series above.
About the Home Learning Association
The Home Learning Association is the first national homeschool organization to offer comprehensive, engaging educational, networking and socialization activities and resources at a national level in the United States. It was founded and is run by the Weston family, a veteran homeschooling family of seventeen years. Started by homeschoolers for all homeschoolers, the association partners with over a dozen affiliated companies to ensure all of the homeschooling community's needs are met. To obtain more information, please visit http://www.HomeLearningAssociation.com, find us on Facebook, on Twitter (@TerraScholar), or call 303-800-5774.