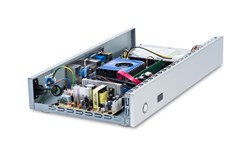 Toronto, ON (PRWEB) January 30, 2014
"Alkeron Hardware is an offshoot of Alkeron Multimedia that was created to design and manufacture hardware parts for multimedia devices when we couldn't find suitable components on the market," explains Dmitri Toubelis, founder of Alkeron Multimedia. "We believe that our designs will appeal to other system integrators like ourselves and we decided to offer our products to the wider audience." The Class-E 211 Mini-ITX enclosure was designed with needs of system integrators in mind and it does not waste space on unneeded expansion or might-use components.
The Class-E 211 Mini-ITX case is intended for use with low powered Mini-ITX boards based on AMD APU and Intel Atom processors. It features 65W/12V internal power supply, embedded IR receiver and mounting hardware for a single 3.5" or 2.5" hard drive. The case is ideal for fanless configuration but it also has opening for an optional 40mm cooling fan. The enclosure features brushed aluminum front panel in black or silver finish.
"In addition to offering the hardware itself, Alkeron Hardware also provides assistance with compliance certifications for devices based on its products," Dmitri Toubelis continues. "And we also offer assembly services at our facility in Taiwan further reducing cost for our customers." Our enclosures carry 1-year limited warranty and 5+ years availability guarantee.
Alkeron hardware is a hardware manufacturing subdivision of Alkeron Multimedia, designs and manufactures hardware components for multimedia devices. For more information, please visit http://alkeronhardware.com.
Dmitri Toubelis, Director
Alkeron Hardware
1-888-534-3335