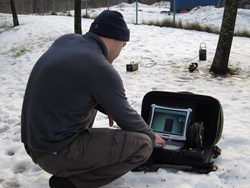 ...readers will be interested to read about our advanced Vidisco equipment and how it may serve to help them in their NDT work...
Or-Yehuda, Israel (PRWEB) January 29, 2014
Vidisco's CMOS system, BoltX Pro for NDT inspections, developed in collaboration with DALSA, has been features in a recent article about X-ray inspections for NDT applications in difficult field conditions. The article details the requirements pipe inspectors face when working in the cold climate and inspecting the large distances of along meters and meters of pipe in locations such as Alaska.
The article discusses digital radiography technology and its suitability for field applications and specifically mentions the BoltX pro system, which is suited to operate in extreme weather conditions and is available in rugged case or backpack configurations. The article was published in the digital version of the magazine in the link http://www.qualitymag.com/articles/topic/2150-web-exclusive-stories.
"A publication such as this one supports the fact that Vidisco has a quality product, which is used in field conditions in various NDT applications around the world. Such an endorsement makes us very happy. We also believe that the readers of the Quality magazine's will be interested to read about our advanced equipment and how it may serve to help them in their NDT work," says Ofra Kleinberger-Riedrich, Vidisco's Marcom Manager.
Vidisco Ltd is a manufacturer that specializes in portable X-ray systems, which are marketed in 75 countries. In the NDT field, Vidisco's systems are also used for many purposes such as pipe inspections in the oil and gas industry. The equipment is also used in the shipyard, power and aerospace industries for weld inspections. Furthermore, today, digital X-ray is also used for examinations of artwork and archeological artifacts to determine authenticity and defects. Vidisco is also active in the security and veterinary fields.