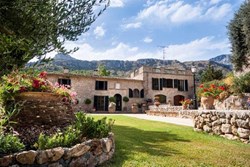 Never before have so many five million euro plus villas sold in one year
Palma de Mallorca (PRWEB UK) 28 January 2014
"Never before have so many five million euro plus villas sold in one year". The words of Daniel Chavarria Waschke, MD of Balearics Sotheby's International Realty, referring to the property market on largest island Mallorca. This Mediterranean archipelago is more sought-after than ever.
"2013 has been quite an incredible year in the history of the Balearics' property market," explains Daniel. "According to our own market research, in Port Andratx alone 16 villas priced over five million euros changed hands in 2013, the highest valued at 18 million euros. In southwest Mallorca no less than 25 five million euro plus villas were sold, 30 in Mallorca as a whole. Bearing in mind this is just information gathered from our owners and advisors, it's likely that even more than 30 were sold. This is record-breaking."
Mallorca Sotheby's International Realty has 317 properties in its portfolio, of which 236 are villas over two million euros. 23 of these are priced over ten million euros, with plenty more being promoted discretely offline. Ibiza Sotheby's International Realty lists 82 properties for sale, of which 59 are villas over two million euros. As a rule, the Company only promotes villas priced above two million euros and apartments above one million – with a distinct lack of the latter, 90% of its listings are in fact villas.
Daniel continues, "Our typical Mallorca Sotheby's International Realty client is looking for a newly built or completely refurbished home, preferably furnished to immaculate taste, that they can just move in to and enjoy from the word 'go'. It is these kinds of home that form the vast majority of those 30 multimillion euro sales on the Island. Properties that need refurbishment are simply becoming less desirable."
The high end real estate agent has also spotted another interesting trend for 2013 and that's the resurgence of Port Andratx as the in-demand location for a luxury home. Just three years ago, the area of Bendinat-Costa d'en Blanes-Puerto Portals, just a few kilometres west of the capital Palma, was on a par with Port Andratx in terms of sales activity. But research by Mallorca Sotheby's International Realty shows that in 2013 properties with a combined value of over 250 million euros were sold in Port Andratx, more than twice the amount claimed by its former close rival. Meanwhile the average price per square metre of property sold by the agent now exceeds 9,000 euros.
"Nationality-wise, Germans topped our buyer list in Mallorca", says Daniel, "followed by Brits and Scandinavians. Interestingly this was not reflected in our enquiries with the majority being British, almost exactly a third, and just a little over 22% German. Perhaps this is a sign that we'll be selling to more Brits in 2014. Only a few Russians purchased in 2013 but, in my opinion, this will change for 2014 as they discover Mallorca's charm. Likewise I expect more Chinese, Middle Eastern and other non-Schengen buyers in 2014 as the law granting automatic residency to foreign investors who use 500,000 euros or more of private funding to purchase a property in Spain is now in full effect."
Across in Ibiza, the mood is also good. Glynn Evans, Managing Director of Ibiza Sotheby's International Realty, based at the new Marina Botafoch HQ, says, "Figures are trickier to come by in Ibiza, perhaps that's part of the Island's mystique, but the general view is that between 18 and 25 villas priced above two million euros changed hands here in 2013. As a Company we have come into 2014 with negotiations on five separate properties on the table, totalling in excess of ten million euros. Various nationalities are involved including French, German, English, Spanish and Portuguese. We expect almost all of the five to come to fruition making this the best start to a year in Ibiza Sotheby's International Realty's short history."
"I keep hearing the South of France cropping up in the same sentence as Ibiza," continues Glynn. "Whilst both locations offer excellent service, upmarket restaurants and the finest homes with famous name owners, the general consensus is that Ibiza has something that the South of France doesn't right now, and that's the 'cool' factor. Our buyers may be exceptionally wealthy and love to live the high life, but in Ibiza they can do it wearing flipflops in a slightly bohemian bar if they wish – and just be themselves for a while. We're certainly attracting a clientele that may previously have opted for France, but prefer the unique ambience on this Mediterranean island."
Certainly the White Island is an established celebrity hangout. Beyoncé and baby Blue, David and Samantha Cameron, tennis heartthrob Rafael Nadal, socialite Paris Hilton, Wolf of Wall Street Star Leonardo DiCaprio and supermodels Bar Refaeli, Doutzen Kroes and Kate Moss all chose Ibiza for their summer 2013 holidays. Elle MacPherson and Jade Jagger have had homes on the Island, as do bad boy rocker Noel Gallagher, football favourites Cesc Fabregas and David Villa, musician James Blunt and DJs Pete Tong and Eric Morillo. They enjoy the beautiful scenery, unspoilt beaches, rolling countryside and an ability to escape the public and the paparazzi should they wish.
"Nationality-wise Brits topped our buyer list in Ibiza, this is backed-up by enquiry figures with just under 40% of enquiries to the office being British, a significantly higher proportion than in Mallorca, and just over 10% of them being German," continues Glynn. "The Dutch, Spanish and Italians follow behind at around 7% each. Americans are expected to feature heavily in 2014 with many affluent individuals already booking top-class summer holiday rentals – both homes and charter yachts – and the tendency is for more permanent arrangements to follow. And, with more than 300 Sotheby's Realty affiliate offices in the States to assist, it's certainly a territory worth exploring."
New for 2014, Mallorca, and indeed Ibiza, Sotheby's International Realty is launching a short-term rentals service. As a rule, holiday homes are only occupied between a maximum of six and ten weeks each year by their owners. For the remainder of the year they sit empty - although still requiring maintenance and management year-round. A short-term or holiday let could not only be lucrative financially, but perhaps also inspire the tenants to make a more permanent arrangement with a house purchase. The Balearics require owners to acquire a holiday rental licence from the authorities, but after that, the Company will handle lets on the owners' behalf and utilise its extensive network of discerning clients.
Statistics just out suggest that holiday lets will be very much in demand as Frontur, Spain's Institute of Tourism Studies, revealed that the Balearics welcomed record numbers of international tourists in 2013. 11.1 million foreigners chose the Islands for their holidays last year, up 7.2% on 2012, and representing 18.3% of all international visitors to Spain. Germany, Britain and the Netherlands were the main source markets. The Balearics are second only to Catalonia which received 15.5 million, an annual increase of 8%, and 25.7% of the total. Spain closed 2013 with 69.6 million international tourists, 5.6% more than in 2012, a national record.
On the market in Mallorca:
Ref 6524 – Country Estate in Pollensa
Dating back to the 14th century, this country estate has been completely refurbished and combines traditional historic Mallorquin style with exquisite contemporary design. Set on a plot of 12,000 square metres, the property is divided into two floors and offers five all en suite bedrooms, an additional toilet, dining room, kitchen, gymnasium and two living rooms, one with open fireplace. Outside there is an outdoor kitchen, swimming pool and colourful bloom-filled gardens including an orchard full of fruit trees. Extras include hot and cold air conditioning, central heating, an alarm system and hardwood flooring.
Five bedrooms, Five bathrooms
Built area 700m², Plot size 12,000m²
Price 3.5 million euros (approx 2.88 million GBP)
Contact Mallorca Sotheby's International Realty on (+34) 971 67 48 07, mallorca(at)mallorcasir(dot)com or visit http://www.mallorca-sothebysrealty.com. Social media: http://www.facebook.com/MallorcaSothebysRealty / http://www.twitter.com/MallorcaSIR.
On the market in Ibiza:
Ref 6537 – Villa in Vista Alegre
A brand new south facing villa set in the prestigious secure gated community of Vista Alegre. Conforming to the highest design and construction standards, the home is arranged across three levels. The main living space is open-plan with a high-end fitted kitchen, dining area and lounge, all flooded with light from wraparound floor-to-ceiling glass walls. Upstairs there are four en suite bedrooms enjoying plenty of terrace space. Meanwhile, at lower level, an infinity edge pool and outdoor kitchen boast amazing Mediterranean views towards the Porroig peninsular and island of Formentera. The price includes all designer furniture and appliances.
Four bedrooms, Four bathrooms
Built area 556m², Plot size 1,579m²
Price 3.95 million euros (approx 3.23 million GBP)
Contact Ibiza Sotheby's International Realty on (+34) 971 31 07 99, ibiza(at)ibizasir(dot)com or visit http://www.ibiza-sothebysrealty.com. Social media: http://www.facebook.com/IbizaSothebysRealty / http://www.twitter.com/IbizaSIR.
For further press information or photography please contact Sarah Drane on:
sarah(at)purplecakefactory(dot)com or call 00 34 607 564 726