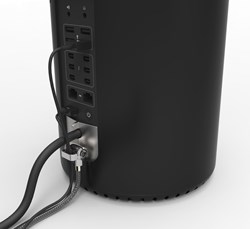 Our goals were clear – create a complete solution, be first to market, and offer it at a price that everyone can be happy with.
Austin, Texas (PRWEB) January 28, 2014
When Apple announced the new Mac Pro it had people ooh-ing and ahh-ing over its new design, and even more importantly, its upgraded hardware specs. But one question had "Macheads" anxious: Would Apple continue the trend of excluding an integrated locking solution for the workstation, which costs $3,000 and up?
Lo and behold, as eager users received their new Mac Pros, they discovered no such security option was included.
Maclocks new CEO Assaf Katan says, "Maclocks has always been committed to putting itself in the customer's shoes, if they are going to value it, we'll take the time to protect it." He adds, "In this case our goals were clear – create a complete solution, be first to market, and offer it at a price that everyone can be happy with."
So Maclocks, "Protectors of the Apple Universe," has stepped up and engineered the first and only Mac Pro Lock, which not only prevents the computer itself from being stolen, but also it safeguards its valuable components.
The aptly named Mac Pro Lock Security Bracket fits comfortably underneath the cylinder lid with an extended rim to connect the included Security Cable Lock. The high security stainless steel bracket plate is designed to sit securely over the power cable, ensuring the lid cannot be opened without unlocking it first.
"Apple's new Mac Pro has a unique design that, while impressive, presented an intriguing challenge for us. But we worked tirelessly to not only be the first to market but as always offer the best locking solution," said Alexander Gad, Maclocks Brand Manager. "We have been getting calls and messages daily from some of the top design schools and industry professionals asking 'Is it ready yet?' Now we can proudly answer, Yes!"
New Mac Pros have already sold out worldwide so expect high demand for the new Mac Pro Lock Security Bracket. With a pre-order price of $89.95 that includes the Stainless Steel Bracket Plate, a Security Cable Lock with 2 keys and Maclocks' patented Peripheral Cable Security Trap, you'd better act fast.
Maclocks is gearing up for a ship date of February 25th and is expecting these to sell out very quickly; you can preorder yours now at Maclocks.com.
Maclocks, as part of the Compulocks Brands Inc., is the premier designer and manufacturer of locking display solutions for Apple and Samsung Tablets, MacBook Pro and Air, Mac computers, and laptops and PCs. Maclocks' products are sold worldwide to corporations, educational institutions, and government agencies.