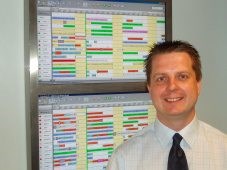 Fantastic tool and friendly UI. It has helped us to massively improve the necessary record keeping as well as all the planning. The business has seen huge improvements since we've implemented this. - Siemens PLC
(PRWEB UK) 30 January 2014
For any manager responsible for scheduling, matching employees' skills and abilities with specific tasks and jobs has traditionally been one of the most difficult things to do. Assigning an employee without the appropriate skills or training a specific task could result in significant amounts of wasted time and money with little or nothing to show for it.
Add in the potential for reputation damage and dissatisfied customers or clients, and it's easy to see why managers spend considerable amounts of time and effort attempting to ensure the right employees are assigned to specific tasks. 'Schedule it' now takes that hassle out of the picture.
The latest release of 'Schedule it' automatically checks employee availability and then skills and abilities against the jobs planned for them. This ensures that managers are able to pair the right employee with each task. The immediate upshot is reduced errors and problems with tasks and jobs, less time wasted attempting to matching employees for the manager, and saved money for the company.
'Schedule it' takes the hard work out of scheduling by ensuring managers are able to make the right decisions in terms of pairing employees with responsibilities based on actual skills, expertise, and available hours. Combine that with the company's new Apple and Android mobile app, and it's easy to see just how simple this once time-consuming task can truly be.
For more details on the employee benefits with the desktop scheduling software and remote applications, visit http://www.Scheduleit.co.uk/employeescheduling.htm.
About Schedule it: 'Schedule it' is used by over 3,500 clients, including IBM, Microsoft, Shell, NHS, Fujitsu, Cisco and more. The company's software provides powerful solutions for employee scheduling and staff planning, resource planning and service scheduling, training course planning and scheduling and more. Used by service and support centers, education facilities, military centers, healthcare providers and many others, 'Schedule it' saves time, stress and money.
To learn more about the new features available in 'Schedule it' or the company's mobile or web applications, visit http://www.Scheduleit.co.uk.