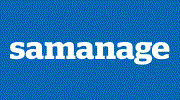 We see a growing interest in cloud-based products as companies look for more cost effective solutions that are easier to use and maintain.
Cary, NC (PRWEB) January 28, 2014
Samanage, the leader in cloud-based, integrated Service Desk and IT Asset Management software, today announced that their customer base has tripled over the past 12 months. The customer base is diversified across 42 countries and multiple industry sectors, the most prominent being Healthcare, Education, and State/Local Government. New customers include Mesa Labs, Nutrisystem, and Washington Health Benefit Exchange.
The company attributes its growth to its easy-to-use and innovative SaaS multi-tenant technology, which delivers the fastest time to value in the industry and a user experience that is unparalleled. To meet the rapidly increasing market demand for its solutions, Samanage doubled its workforce in 2013 and plans to add 30 more employees in 2014.
"We continue to grab market share by challenging legacy on-premise IT Service Management vendors and offering easy-to-use and robust cloud-based IT service desk," said Doron Gordon, Founder and CEO. "We see a growing interest in cloud-based products as companies look for more cost effective solutions that are easier to use and maintain."
With its pure SaaS multi-tenant platform, Samanage is able to update its software across all customers simultaneously- everyone is always on the latest version. That translates into rapid innovation and responsiveness to customer requests. In 2013 the solution was enhanced daily, with more than 800 upgrades deployed during the course of the year - all with no effort on the customer side.
One of the most lauded additions last year was the extended Service Desk, enabling departments other than IT to streamline service requests and improve communications between employees and the internal service providers, such as Human Resources, Facility Management, Marketing and Purchasing. Samanage also introduced improved Service Level Management, Customer Satisfaction, automated integration of computer warranty information and email customization, among many other features and enhancements. The product integration with several key players such as Google Apps, Chatter, Dropbox, Zendesk, Salesforce, OKTA, OneLogin, Chatter and Zapier was tightened as well.
"The little things all added up – the mobile support…QR and BAR codes… custom fields," said Ben Miller, Knox County School District of Tennessee. "We have come to admire the software."
About Samanage
Samanage is a leading provider of secure, SaaS-based IT Service Management Solutions that help companies manage their IT assets, deliver an ITIL-based IT Service Desk, organize their software licenses and IT contracts, and detect risks and license compliance gaps. Delivered as a SaaS service with no software or servers required, Samanage empowers companies of all sizes with capabilities that were previously available only to large companies. Samanage is easily deployed across multiple locations within minutes and provides visibility into complex IT infrastructures, making it easy to automate and simplify the daily tasks associated with establishing IT governance, control, and compliance. Samanage is backed by Carmel Ventures and Gemini Israel Ventures. Learn more at: http://www.Samanage.com/.