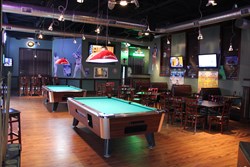 Somerset, NJ (PRWEB) January 28, 2014
Leading restaurant furniture manufacturer and distributor Affordable Seating recently helped Freddy's Sports Bar in Somerset, NJ to a triumphant grand opening with attractive wood bar stools.
Freddy's Sports Bar is Somerset New Jersey's number one sports bar and restaurant. Their bar offers something for everyone from the local business crowd to families, sports fans, and visiting teams and fans in town to play Rutgers. Freddy's is located just minutes for Rutgers University stadium making it an ideal place to pregame or stop by for a bite to eat afterwards.
With 8,000 square feet including their patio and outside bar Freddy's is a great place for customers to watch their favorite sporting event. They have over 30 TVs showing all the games in all the major sports from the NFL, MLB, NBA, and NHL, making it a great place to watch the Super Bowl. They also have pool tables customers can enjoy and there is live music every Friday night. Freddy's is a family owned and operated business that puts an emphasis on taking care of customers. Freddy's uses only the freshest ingredients to make sure every dish is sure to please.
"As a venue that brings in a wide variety of customers and experiences heavy traffic every day, the owner of Freddy's Sports Bar was looking for new, stylish chairs that would help make a statement and also last a long time," Affordable Seating sales representative David M. explained.
"The owner contacted Affordable Seating for new bar stools because of their reputation for high quality at competitive prices", explained Dave. "He decided to go with Affordable Seating's Premium Window Back Bar Stool in mahogany finish and padded black vinyl seats."
The Premium Window Back Bar Stool sells for $89 and also comes in a matching chair for $78. Customers can choose from 6 different finishes or have a custom finish made for an additional charge. Customers also have the choice of a solid wood seat or an American made padded seat made of vinyl or other fabric which can be custom upholstered. As with most of Affordable Seating's wood products, the Premium Window Back Bar Stools are made in the USA from wood responsibly harvested in the Midwest.
"The Premium Window Back Bar Stools were perfect for what the team at Freddy's Sports bar were looking for," David said. "The Premium Window Back Bar Stools are comfortable and functional, with the long-lasting durability and are reputed for their fine craftsmanship."
To view Affordable Seating's full selection of restaurant chairs, bar stools, booths, tables and patio furniture visit http://www.affordableseating.net or call a customer service representative at (888) 495-8884.
Freddy's Sports Bar is located at 149 Pierce St. in Somerset, NJ. They can be contacted at (732) 356-3334.