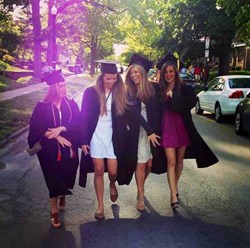 Cleveland, OH (PRWEB) January 29, 2014
Laugh Staff, a professional speech writing company made up of comedians; is proud to announce they are extending their speech writing services to help graduates throughout the country.
Since their start in March of 2012, Laugh Staff has been receiving a growing number of requests to do speeches outside of just Best Man & Maid of Honor Speeches (their specialty). To help meet the needs of their customers they've decided to start answering the call by offering an exclusive graduation speech package. For only $129.99, a valedictorian or class president can hire a professional comedian to work one-on-one with them to write a speech that will be hilarious and remembered for years to come.
"With YouTube, Vine, Facebook, Twitter, & just about all social media, the pressure to perform at a graduation is intense," said co-founder Cameron Amigo. "We want the students to be able to enjoy the day without the stress of writing a funny speech on their own. We're like the tutor they never had."
For more information about Laugh Staff, Inc. visit http://www.laughstaff.com or email camigo(at)laughstaff(dot)com.
About Laugh Staff, Inc.:
Laugh Staff, Inc. was founded in 2012 by a team of comedians and writers in Cleveland, Ohio. Laugh Staff helps their clients with best man speeches as well as providing best man speech examples on their blog. They assist best men and maids of honor in speech-editing, speech writing, and provide training on speech delivery. Recognizing the importance of the big day, Laugh Staff's professional comedians work with best men and maids of honor to ensure they make a lasting impression.