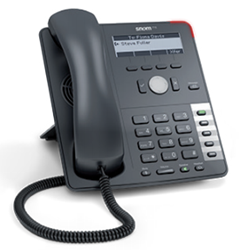 This is an IP desktop phone for businesses with big needs but small budgets. Gigabit Ethernet is typically a hallmark of more expensive phones.
Miami, FL and Woburn, MA (PRWEB) January 28, 2014
snom, a leading developer of IP business phones, today announced the snom 715, a new addition to its 7xx series family of phones. The snom 715 is a state-of-the-art, full-featured SIP phone with a dual port Gigabit Ethernet switch, and is ideally suited for the demands of today's always-on, real-time, information-driven workplace.
snom is demonstrating the new phone, as well as its entire product lineup, in Booth #426 at ITEXPO East, which takes place January 28-31 in Miami.
"This is an IP desktop phone for businesses with big needs but small budgets," said Mike Storella, VP Americas of snom technology. "Gigabit Ethernet is typically a hallmark of more expensive phones, but we are delivering that capability at $139 (MSRP)."
Storella continued, "With the snom 715, we are continuing our push to drive snom's high quality SIP endpoints into every corner of the business market."
The snom 715 offers the same cutting edge features as the snom 710 but has a dual port Gigabit Ethernet switch that delivers enterprise-grade network connectivity and performance to handle the most demanding communications applications.
The phone offers rich, crystal-clear voice quality with its wideband HD audio and four SIP (Session Initiation Protocol) "identities," or lines, a backlit four-line black and white LCD display, five programmable function keys and is Wi-Fi capable.
Like all snom desktop phones, the 715 features snom's innovative SIP firmware, which has powered voice communications in businesses large and small for over a decade. In addition, the snom 715 has remote management and provisioning capabilities to ease the administrative burden, making it ideal for hosted and cloud VoIP services, on-site IP PBXs and large-scale multisite installations.
Further, the snom 715 comes with a pre-installed security certificate for quick and secure provisioning, and integration with SIP-based IP-PBXs and hosted VoIP solutions.
snom's technology partner ecosystem includes leading residential and business Internet telephony service providers, application server providers, IP-PBX, hosted VoIP solution providers and unified communications developers.
Other phones in snom's 7xx series portfolio include the 710, 720 and 760, which feature a range of capabilities and price points to fit every business need and budget.
Follow us on Twitter, like us on Facebook, join our LinkedIn group or add us on Google+.
About snom
Founded in 1996, snom develops and manufactures VoIP telephones and related equipment based on the IETF open standard, SIP (Session Initiation Protocol). Recognized for its high-quality, customizable and cost-effective business phones, snom is also differentiated by the company's history in the VoIP industry and its dedication to high security standards. All of snom's products are designed to be fully interoperable with leading communications equipment vendors. snom customers and partners benefit from the interoperability and flexibility that snom telephones offer, including plug-and-play integration and universal compatibility with standards-based SIP VoIP platforms, applications or services. In September 2011, the snom 300 and snom 821 became the first and only SIP phones to achieve "Qualified for Microsoft Lync" status – Microsoft's top distinction for fully tested interoperability and compatibility with Microsoft Lync. snom's leadership continues today, based on its six-phone UC edition portfolio – the industry's largest and most extensive family of standards-based business phones qualified for Microsoft Lync enterprise environments.
snom is headquartered in Berlin, Germany, with offices in Italy, France, the United Kingdom, Taiwan and the U.S. that support a global network of channel partners in Europe, the Americas and Asia Pacific. For more information, visit http://www.snom.com.
Media Contacts
North America
John Gates
Elevate Communications
+1 (617) 861-3651
john(at)elevatecom(dot)com
Global
Christian Baier
Jason Green
Berlin, Germany
+49-30-39833-106/105
Christian.baier(at)snom(dot)com
Jason.green(at)snom(dot)com