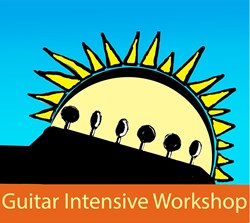 I got a swift and strong response, with many folks asking me if and when we could come to the city nearest them.
(PRWEB) January 30, 2014
Three years ago two guitar virtuosos had an idea to create a learning experience second to none for aspiring guitarists. It happened at Bruce Arnold's Summer Guitar Intensive in New York City.  Mr. Arnold had hired Mimi Fox to be one of the instructors for two reasons. First, she was a world-class guitarist, and second, she was an excellent teacher.
Arnold had had many experiences with top-drawer players who could not communicate their ideas to others, but in Fox he found both a polished performer, and a kindred educational spirit. And in those first weeks of getting to know each other's music and values, the idea of a traveling Guitar Intensive Workshop was born.
There are guitar camps all over the country, and all around the world. But they are pinned to one location, and aspiring students must often travel great distances to attend. In addition the costs of attending these camps are often so exorbitant that many worthy students are simply left out, unable to pay the tuition fees. Fox and Arnold had the idea of a mobile school, one with scholarships for the less fortunate. Arnold even included free downloads of the necessary texts for the courses, and the concept of the Guitar Intensive Workshop was born.
As in the classic film, the Seven Samurai, Arnold then went about contacting fellow musicians, to find out who would be the right candidates for his dream faculty.  Again, simply being famous or a virtuoso was not the point.  So far, along with Arnold and Fox, the faculty now includes Stuart Hamm and Alex Skolnick. A recent trip to NAMM garnered further candidates (and sponsors) who will be announced as the project continues to evolve.
"There is a real need and demand for this kind of traveling program," says Arnold. "Before acting on the idea of the Workshops, I sent out a tentative mailing, to find out about the interest level. I got a swift and strong response, with many folks asking me if and when we could come to the city nearest them."
The Workshops would be geared to the intermediate to advanced student of guitar or bass. Further setting them apart from the usual curriculum taught at camps, often neglected subjects like music theory, time studies, ear training and sight reading will be covered. Arnold also provides a unique service; an evaluation prior to attendance at the Workshops, in order to assure each student that they will be prepared for the challenges, and follow up Skype sessions and chat rooms to keep the momentum of learning going.
The demand does not end at our shores. "My list is international, too," says Arnold "and I was surprised at how many people wondered if we could bring such a program to their country. Maybe at some point we'll go global!"
Sponsors and students can contact the Guitar Intensive Workshop website and the Guitar Intensive Workshop Facebook page.