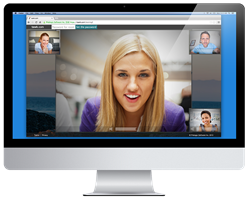 Tawk.com's secure peer-to-peer file transfer is perfect for accountants, lawyers and doctors who need to make important file transfers to their clients while maintaining privacy.
Miami Beach, Florida (PRWEB) January 29, 2014
ITExpo East at the Miami Beach Convention Center from January 28-31, 2014 and the Enterprise WebRTC Pavilion is a great place to see leading WebRTC technology in this rapidly emerging industry.
Priologic is demonstrating their newly released Tawk.com v2 at the Enterprise WebRTC Pavilion booth 514M.
"Priologic is adding capabilities to Tawk.com in lockstep with the improvements in WebRTC capable browsers. A year ago only Chrome had WebRTC fully implemented, now Firefox and Opera are going strong. Next year Internet Explorer and Safari will likely support WebRTC, or someone will have provided a good workaround", according to Priologic CEO, Doug Pelton.
"Last year there where only a few companies working with WebRTC. This year there are over three hundred companies working on all sorts of WebRTC projects. There are probably a few thousand more that haven't emerged from the garage yet," says Pelton.
"Tawk.com was originally built to demonstrate Priologic's full-stack EasyRTC Open Source framework. It started winning awards for its frictionless user interface to a secure, anonymous video chat, without logging in, or downloading, just clicking on a link," says Pelton.
Tawk.com v2 includes three new features that users have been asking for:

Peer to peer secure text messaging with URL tagging. Sending text, phone numbers, URLs, postal addresses, and code fragments. Send a single character to 100KB per message.
Peer to peer secure file sharing: Drag-and-drop files from your desktop to another person's video chat to start a transfer. The person gets to accept or reject. When the data channel is available, files travel peer to peer, and their size is unlimited. If a data channel isn't available, the data is sent via WebSockets or TURN as a fallback, with a 10MB limit.
Network statistics: Signal-strength bars at the bottom of a peer's video give a visual depiction of how much bandwidth is available. Hover over the signal-strength bars or click on them to get more detailed real-time statistics, including whether a TURN server is being used in for the audio or video chat. Available on Chrome only.
Tawk.com is secured via HTTPS, so the user only has to press the Accept button once to use the camera and microphone, until the next time the cache is cleared.
"In the next few months, we'll release iOS and Android versions of Tawk. They are working in the lab now, ready to submit to the app stores in the next few weeks," says Pelton.
Unlike most WebRTC companies, whose free client side SDKs connect to their paid platform-as-a-service, EasyRTC provides all of the source code for the client and server and building block code for your apps for free, under a BSD2 open source license.
Priologic monetizes EasyRTC by licensing pre-built apps such as Tawk.com; building extensions that enhance EasyRTC, like native SDKs for iOS, Android and other platforms; and by providing world class support and development services.
For more information about Tawk.com v2 and EasyRTC, visit the Priologic kiosk at booth number 514M in the Enterprise WebRTC Pavilion or our website at easyrtc.com.
Company information: Priologic Software Inc. is located in Victoria, BC Canada. Founded in 2003, Priologic has a staff of 30 people. Priologic was exclusively a contract software development firm specializing in building web and mobile applications for large enterprises until late 2012 when a new WebRTC R&D division was set up.
Founder and CEO, Doug Pelton and Priologic's WebRTC team have won three successive awards at the WebRTC Conference & Expo in South San Francisco, Atlanta and Santa Clara for their work on EasyRTC and Tawk.com. Best WebRTC Tool, Best All Around WebRTC and Easiest to Apply WebRTC.
In addition to EasyRTC and Tawk.com Priologic developed the PrioPhone softphone, it provides a means of extending existing enterprise Unified Communications (UC) systems and the public switched telephone network (PSTN) using WebRTC technology. PrioPhone interfaces to SIP-based UC systems via Oracle's WebRTC Session Controller (WSC) as a means of providing a highly secure and scaleable platform for WebRTC and a gateway to existing UC systems and the PSTN.
Managing Director, Miles Vasey, runs Priologic's longstanding software development service business which contracts primarily to F500 companies located in the Silicon Valley area. Priologic's services group is busier than ever with WebRTC as an added specialty.