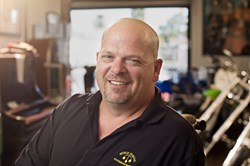 Parature 2014's speaking line-up will be both entertaining and informative for attendees. Customer service executives will leave Las Vegas with a wealth of best practices and insights.
Herndon, VA (PRWEB) January 29, 2014
Parature, a global leader in cloud-based customer service software, today announced its speaker lineup for Parafest, Parature's annual customer service and users' conference, to be held February 24 - 25, 2014 at The Cosmopolitan of Las Vegas. Keynote speakers for the two-day event include Rick Harrison, star of the History Channel's hit series Pawn Stars; customer service evangelist and bestselling author Shep Hyken, and noted CRM analyst, Paul Greenberg.
A well-known personality in Las Vegas and around the world, Rick Harrison is recognized as the co-owner of the World Famous Gold & Silver Pawn Shop, as featured on the History Channel series, Pawn Stars. Harrison will provide a unique Las Vegas welcome to Parafest attendees during the opening keynote by giving a unique perspective on the customer experience and revealing what made his business, and the series Pawn Stars, a longstanding success. The online support of the Pawn Stars' website via History.com and A & E Television is powered by Parature's customer service software.
Often referred to as "the godfather of CRM," Paul Greenberg is one of the world's most respected CRM analysts and the author of the best-selling book, CRM at the Speed of Light. Now in its fourth edition, CRM at the Speed of Light is published in nine languages and has been called "the bible of the CRM industry." Greenberg also authors "Social CRM: The Conversation" for the CBS-owned technology media property, ZDNET.
New York Times and Wall Street Journal bestselling business author Shep Hyken, rounds out the keynote speaking lineup. Shep is an expert in customer service best practices and has worked with clients including American Express, General Motors, IBM, Kraft, Marriott and Toyota.
"Customer service is taking center stage as a growing business differentiator," said Parature Co-founder, Duke Chung. "Parature 2014's speaking line-up will be both entertaining and informative for attendees. Customer service executives will leave Las Vegas with a wealth of best practices and insights that will propel their brands' success, customer retention and continued customer advocacy."
Additional featured speakers for Parafest 2014 include CRM analysts Esteban Kolsky and R "Ray" Wang, Forrester Research Principal Analyst Kate Leggett, and customer care executives from Ask.com, Quark and other noted brands. Executives from Microsoft will also be on hand to discuss Parature's recent acquisition, and how Microsoft Dynamics CRM and Parature will work together going forward.
This year's conference theme will be "Customer First." Parature 2014 will allow customer service and customer experience managers and executives from around the globe and across major industries to gain valuable customer service and experience best practices from experts and thought leaders, while networking with colleagues, peers and customer service executives from some of the world's best-known brands.
For more information on this year's conference or to register, please visit parafest.com.
About Parature
Parature is the industry's leading provider of cloud-based customer engagement solutions and is used to support more than 70 million end users worldwide. Parature empowers customer service organizations to monitor, manage, resolve and respond to a high volume of service issues across multiple communication channels, including the growing number of service-related conversations that are happening every day within social media channels. With more than a decade of experience, Parature delivers support and social media engagement and management solutions to mid-size and enterprise organizations across a wide variety of industries.
Parature is among the vendors on the Gartner Magic Quadrant for the CRM Customer Engagement Center and is the recipient of numerous product, technology, and leadership awards including the 2013 CRM Watchlist, 2013 CRM Magazine Service Leader Awards, 2013 Stevie Awards, 2013 TMC/CUSTOMER Magazine CRM Excellence Awards and the 2013 Frost & Sullivan North American Social Customer Service Applications Customer Value Enhancement Award. Parature is used by some of the world's most innovative organizations, federal agencies and companies and is headquartered in Herndon, Virginia. For more information, visit http://www.parature.com, follow @parature on Twitter or like us on Facebook at facebook.com/parature.