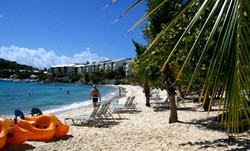 St. Thomas condo rental can save $1000 or more over a hotel option, perhaps enough to pay for their airfare.
Charlotte Amalie, VI (PRWEB) January 29, 2014
Many people would argue St. Thomas ranks as the best spot in the world to vacation; and buying or renting a St. Thomas condo serves as the best way to stay there. As one of the United States Virgin Islands, St. Thomas provides economic and political stability and safety, easy travel from the US, and ease of language and currency. Few Caribbean islands offer the varied topography and shopping opportunities, particularly at the St. Thomas jewelry stores. A condo provides far more space than a hotel room at a lower price and a condo allows buyers far greater ease of ownership and maintenance compared to a house or villa.
To truly appreciate a vacation in a St. Thomas condo rental, imagine a quick comparison of a group making a reservation at a hotel instead. With a three-bedroom condominium, guests stretch out in about 1500 square feet while a hotel room might offer a third of that or less. Next, think about fitting a family of six into a hotel room, wait, the party will need three rooms. St. Thomas condo rental can save $1000 or more over a hotel option, perhaps enough to pay for their airfare. Even comparing a studio condominium rental to a single hotel room, the St. Thomas condo rental actually emerges quite often a relatively cheap St. Thomas hotel option. Add in money saved by not going out to eat for each meal and the savings compound even more.
The St. Thomas Condo Guide provides basic information about the condominium complexes on the island with information including the sizes of condos available, number of units, if pets are allowed and condo amenities.
Of special note among the available condo rentals, travelers should explore the Cowpet Bay St. Thomas condominium rentals. With a selection of larger renovated units, a nice beach and reasonable prices, Cowpet Bay became the favorite of the editor at the St. Thomas island guide. For those needing less space, look for some of the St. Thomas condominiums that rent smaller units by the night as if they were hotel rooms. In this category, examine options including Bluebeard's Castle or Point Pleasant. Travelers will find links on the site to book some of these condos right online with a credit card just as they would with a hotel reservation.
For even larger groups, multiple condos may be rented together to accommodate a sizable corporate function or a destination wedding in the Caribbean. For people with other St. Thomas destination activities in mind, inquire about scuba or golf outings.
Many prime weeks have already been booked, so potential renters should think about selecting dates and reserving now for a nice selection. People taking trips of over two weeks can ask for even more discounts. While travelers might think of other destinations as winter escapes, some of those spots can drop below freezing. St. Thomas remains at a constant 70 to 85 year round. Look into the US Virgin Islands for a winter vacation and explore America's Paradise this year.
About Financial Firebird Corporation and St. Thomas Condo
St. Thomas Condo website is owned and operated in conjunction with the Financial Firebird Travel Corporation, sought by travelers in search of vacation spots and tourism information on the United States Virgin Islands and other Caribbean destinations. The company owns a variety of domains with other U.S. travel offerings, major event ticket sales and city guides and hotel directories as well as a St. Croix Condo Guide.