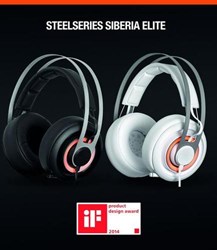 We are incredibly excited to see the newest Siberia headset celebrated for its unique design from such a prestigious award community.
Copenhagen, Denmark (PRWEB) January 28, 2014
SteelSeries, a global leader in the gaming peripherals and accessories market, today announced that the Siberia Elite Gaming Headset has won the 2014 iF product design award and will be recognized with the renowned iF label in the Audio/Visual category. Out of more than 3,000 entries, the Siberia Elite Gaming Headset was recognized for its original aesthetics and unique design.
"We are incredibly excited to see the newest Siberia headset celebrated for its unique design from such a prestigious award community," said Bruce Hawver, SteelSeries CEO. "This award and recognition comes at a the perfect time, just as SteelSeries begins the 10 year anniversary celebration of the first Siberia headset – the original shape and features laid the groundwork of the Siberia Elite design."
About The Siberia Elite Headset
Delivering the newest generation and highest-quality SteelSeries speaker drivers, the Siberia Elite headset is equipped with Dolby® technology for realistic 7.1 virtual surround sound. Siberia Elite's amplified design includes extra-large memory foam ear cushions, SteelSeries' signature Siberia self-adjusting suspension system connected to a sandblasted steel arc, and illumination with a choice of 16.8 million color options that radiate from each earcup.
Dials on the earcups power the Siberia Elite's volume and microphone-mute controls, while new levels of customization are supported by the newest version of SteelSeries Engine configuration software. Built for gaming and entertainment across multiple devices, the Siberia Elite offers limitless connectivity through its swappable cable system making it instantly compatible for PC, Mac®, tablets and phones.
For more information about the headset and images of the award-winning design, please visit: http://steelseries.com/siberiaelite.
About iF
For 60 years, the iF product design award has been an internationally recognized label for award-winning design and the iF brand has become a symbol for outstanding achievements in design. The jury considered criteria such as design quality, finish, choice of materials, degree of innovation, environmental impact, functionality, ergonomics, visualization of intended use, safety, brand value and branding and aspects of universal design.
About SteelSeries
SteelSeries is a leading manufacturer of top quality gaming peripherals from headsets, keyboards and mice to controllers, surfaces and software. For more than a decade, SteelSeries has been on the forefront of designing and creating gear for gamers. The company's continued innovation also comes in collaboration with the world's leading professional gaming teams and partners. SteelSeries is a global brand that continues to support the growth of competitive gaming tournaments and electronic sports leagues through professional team sponsorships, partnerships and community support. For more information, please visit http://steelseries.com.