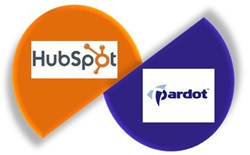 The platform really is so easy to operate. The system is smart - it thinks the way a marketer does and streamlines tasks that would otherwise be manual.
Boston, MA (PRWEB) January 28, 2014
Softwarefit, a business helping companies choose CRM, ERP and marketing automation software with unbiased user reviews and data, has seen an influx in reviews of HubSpot marketing automation – a thought leader in the content and inbound marketing space. Softwarefit delivers a catalogue of comprehensive business software reviews for small, mid and enterprise sized companies. Softwarefit's end user reviews are designed to give businesses looking for software an honest view into every platform featured on the site. HubSpot, despite widespread popularity, has received middling reviews in the Marketing Automation category with complaints of lack of customization and integration.
Users unanimously gave HubSpot glowing reviews for customer service, saying: "the help support is amazing - 12 out of 10! I could pick up the phone right now and someone would help me with a screen share to walk me through what I am trying to accomplish." Customer service is important to HubSpot and is reflected in their end user reviews. Users also love the intuitive user interface and ease of use of the product. One user said this of HubSpot: "the platform really is so easy to operate. The system is smart - it thinks the way a marketer does and streamlines tasks that would otherwise be manual." While it is easy to use and has great customer service every review mentions frustrations with lead scoring and customization.
One user who is trying to integrate HubSpot with SugarCRM said he wished "[HubSpot] wouldn't just focus on Salesforce.com for CRM integration," and instead invest time in integrations to other CRMs, like SugarCRM, and also in "better lead scoring." It is true that many marketing automation software platforms on the market are first and foremost concerned with integrating with Salesforce.com, which makes it hard for small to mid-sized businesses who cannot afford Salesforce's massive price tag to integrate solutions like HubSpot to their CRM system.
Interested in reading more about HubSpot? Softwarefit has written several comparison white papers like: HubSpot vs Pardot and The Complete Marketing Automation and CRM Integration Chart, for individuals looking to invest or switch marketing automation tools. Visit Softwarefit.com's Marketing Automation review site to read more about what end users have to say about their favorite software platforms.
About Softwarefit
Softwarefit is a technology consulting firm with business software specialists, analysts and engineers who have over 100 years combined experience. Specializing in the development of CRM, ERP and marketing automation, Softwarefit offers free consulting, for the leading business solutions in today's market. A history of providing real business results with CRM, ERP and marketing automation enterprises, Softwarefit is based in Boston, Massachusetts and serves companies from diverse industries.