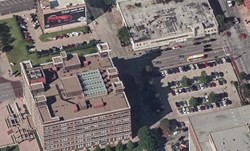 Colorado Springs, CO (PRWEB) January 29, 2014
Oblique imagery data covering more than 2,700 square miles of the Dallas/Ft. Worth Metroplex has been acquired and processed by The Sanborn Map Company, Inc. The imagery offers a crisp ground sample distance (GSD) of 2.5 inches for most of the area in natural color (RGB). It was captured during 2013 with a five-camera configuration (nadir, north, south, east and west) and has unprecedented clarity.
"We are not aware of any other imagery acquisition covering an area this large at this resolution," says Sanchit Agarwal, Sanborn's director of mapping operations. Agarwal added, "The resolution is phenomenal and so is the accuracy, which has been independently verified at twice the resolution or 5 inches in the 2.5 inch areas."
"We're eager to provide our customers the best possible information and solutions," says Learon Dalby, senior vice president, Business Solutions. Dalby adds that the imagery can be delivered to customers bundled with "Sanborn Oblique Analyst".
"Sanborn Oblique Analyst is a comprehensive software package that offers several ways to extract and analyze information from oblique imagery," explains Dalby. "We developed the solution based on customer requirements."
The Sanborn oblique imagery product line includes imagery in standard industry formats, software options and storage options if required by the customer. Providing end to end geospatial solutions to meet customer needs is a foundation of Sanborn.
See examples of Sanborn oblique imagery at http://demo2.sanborn.com/COS/.
Customer inquiries can be directed to one of our U.S.-based sales team at: http://www.sanborn.com/company/contact or by email at: information(at)sanborn(dot)com.
About The Sanborn Map Company, Inc.
Sanborn is a preeminent leader in the exploding geospatial industry, delivering state-of-the-art aerial mapping solutions to customers worldwide. Using cutting-edge technology, Sanborn specializes in high-quality aerial and mobile LiDAR, aerial orthophotography, 3-D modeling and visualization, oblique aerial imagery and software development. The firm currently operates a fleet of 14 aircraft across the United States. Sanborn's technology advantage, innovative image processing expertise, a local presence nationwide and project management proficiency deliver unmatched value to its global customers.